Did you make fruit pops yet? Or anything else where you need to dip stuff in chocolate? You always end up with a lot of left over melted chocolate – so what do you do with that? You make luxury chocolate!! This is inspired by a recipe from Mark Sissons cookbook "Primal blueprint – quick and easy meals" if you don't have it already – I can recommend it!!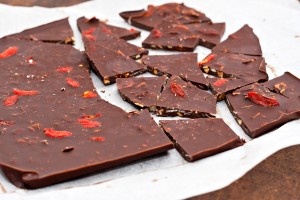 Have you seen those exclusive brands of fine chocolate with weird and interesting combinations of tastes added? You don't have to pay a fortune you know – you can just make them yourself. Use a good quality dark chocolate as base though – the darker the better, if you ask me…
Maybe you have some left over melted dark chocolate from making fruit pops or similar? Otherwise simply melt some just for this purpose.
100 – 150 g should do. Use a bowl in a pot of hot (but not any more boiling) water – and make sure no water gets into the bowl of chocolate. Place the chocolate, broken into pieces in the bowl and let it slowly melt.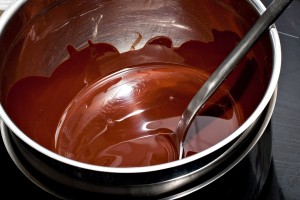 Once the chocolate is melted you have to decide – add some coconut oil (a tbsp or two depending on your likings) or not. Coconut oil is healthy and sure takes a bit of the bitterness out of a really dark chocolate – but this means the end result needs to be stored cold or it will melt. Which is OK at home. On the other hand – if you want to gift it (you know, simply wrapping it in come cellophane with a nice ribbon – makes this a pretty cool gift!) then you should leave out the coconut oil. (or it will melt in the cellophane and not look so nice anymore…)
Well, either or – just decide, both alternatives are great!
Now, chocolate melted, coconut oil or not, you will be adding some extras to the chocolate – you can go simple, and add some chopped (or whole) nuts, some coconut flakes, maybe raisins or dried berries.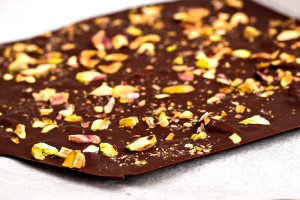 If you just made the fruit pops I mentioned above – you could also use the "toppings" that might be left over.
You can also be more adventurous and add more grown up things like crushed red pepper, or small pieces of dried chili.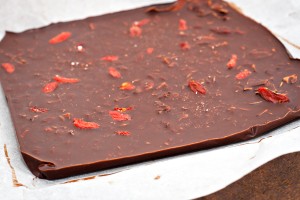 For this one, above, I added coconut flakes, sliced almonds, chopped hazelnuts and dried goji berries (I know – for a second you thought that was dried chilis :-))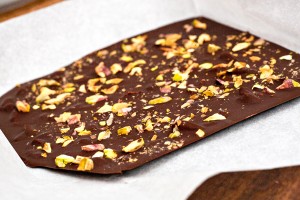 And for this one I added coconut flakes goji berries and sprinkled chopped roasted pistachios over.
What you do is that you spread the melted chocolate on parchment paper (baking paper) – you can line a form or a box with it to get a certain shape – maybe even make it chocolate bar sized?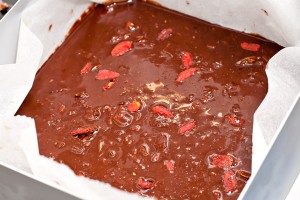 Then sprinkle some last nuts / berries / pepper – and also a tiny bit of salt! This will cool pretty fast now once spread out – but still, pop it into the freezer to make it ice cold.
Break into pieces and store in a box in the freezer if you used coconut oil.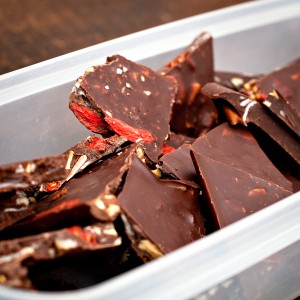 Enjoy!
Liesel
The non-pricey luxury chocolate