The description "cake pop" came into my vocabulary only a year ago or so. I think you are supposed to bake a cake only to destroy it again and then dip mashed up little balls of it into chocolate. Seriously? We can do better then that – can't we? On Christmas markets here in this region it's common with fruit dipped in chocolate – so that inspired me to make "fruit pops". Let's just say – the kids were over the moon!!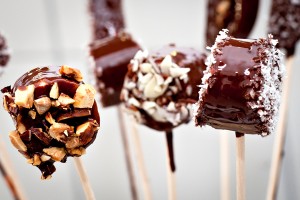 This is so easy and self-explaining that I'll hardly need to write a word, but some short guidelines are hopefully ok…
Start by melting the chocolate by pouring boiling water into a pot, then placing a bowl over / in the water and put the chocolate – in pieces – in that bowl. Stir every now and then, but make sure no water gets into your bowl or the chocolate will get ugly! Use high quality chocolate for best results. The darker, the better – if you ask me…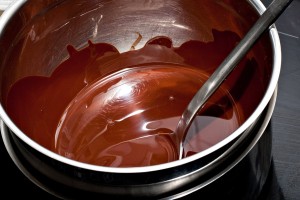 While chocolate is slowly melting, prepare the fruit you wish to use. As you can see below, I sliced some apple (make sure you don't slice them to thin…) and cut a banana into pieces. Other fruits perfect for this, are grapes, strawberries, mandarin (slices) and pieces of pineapple – I'm sure you can think of even more.
Stick your fruits on skewers, and find a way of keeping them upright without touching each other.  I filled a plastic container with some rice – which was perfect for sticking the skewers into.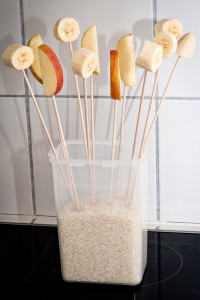 Also prepare any "toppings" you wish to use. Pictured is, shredded coconut, almond slices – cut into smaller pieces – and chopped and roasted hazelnuts. Place on plates next to chocolate.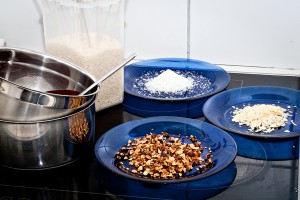 Once the chocolate has melted you can start dipping the fruit into the chocolate, one by one. And then into your toppings as you wish. It's easiest if you let the chocolate cool a bit first – otherwise your toppings will just slide off – been there, done that! 🙂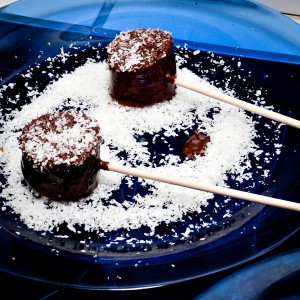 Then place your "fruit pop" back into the container you chose and make sure the fruits are not touching.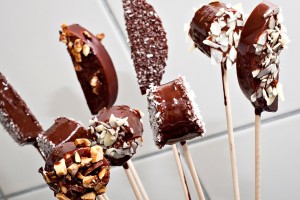 When all are done, you can put them in the fridge for a while to let them fully cool down.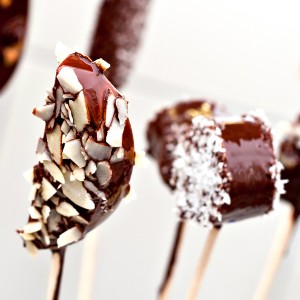 Enjoy!
Liesel