There is something special about early morning baking! I made this cake for breakfast the other day and while it was in the oven I still had time to scramble eggs and fry some bacon. Perfect start of any day if you ask me…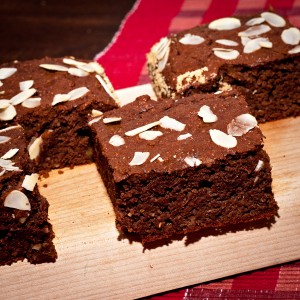 We need some music to start with.  Wakes you up and get's things going! I had "a very she & him Christmas" on… Love Zooey Deschanel!
Now, in a big bowl:
1-2 bananas, depending on size – mash
add 4 eggs
1 tbsp vinegar
and 1 tbsp honey – and whisk it all with an electrical whisk
Then grate the peel of one organic orange into the eggs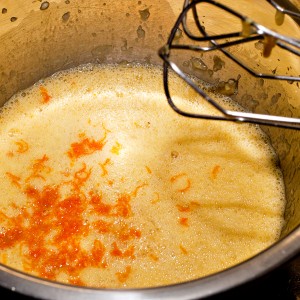 Turn on the oven 180 C (350 F) and turn up the volume of your music – singing along is totally allowed…
To a smaller bowl add the following:
200 ml (0.8 cup) shredded coconut + 4 dried apricots – grind this first in a mixer/grinder
200 ml (0.8 cup) almond flour
2 tbsp's coconut flour
2 teaspoons baking powder
3 tbsp's cacao powder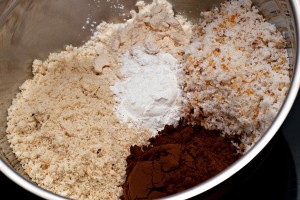 And mix it with a spoon.
Then prepare your baking form(s). This could be muffin forms on a baking tray, or – as I choose that morning – a cake form. I used a square 20×20 cm (7.9×7.9 inch) form where you can lift out the bottom, buttered it and scattered almond flour inside.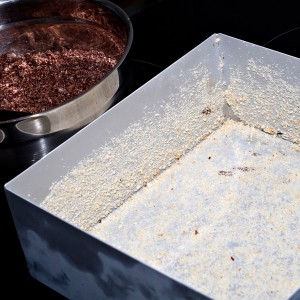 In the upper left corner of the pic you can also see the mixed dry ingredients…
When that is done, chop some walnuts or other nuts – or don't if you don't feel like. This is not a deal breaker. I just think walnuts go very well in chocolate cake…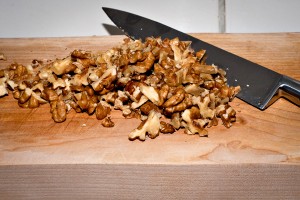 Now melt about 50 g (1.8 ounce) butter
Add the dry ingredients to the egg-banana mix and stir. Also add the nuts – and the melted butter too.
Then get the orange that you just got the peel off and press the juice out. Add about 3 tbsp's of orange juice to the cake batter. And stir.
Fill your form(s) and if you feel creative you can sprinkle some sliced almonds over it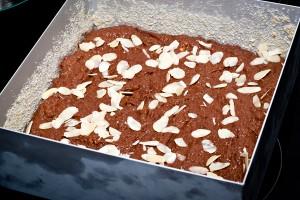 Bake muffins in the middle part for 18-23 minutes – depending on their size, cake in the lower part of the oven for about 30 minutes.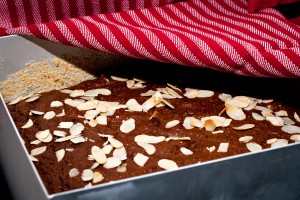 Voila!
I'm not really a big fan of whipped cream in the early morning, but if I would serve this as a dessert or for afternoon tea, I'd add a dollop of that.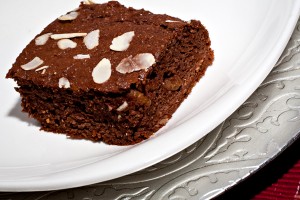 Enjoy!
Liesel
Very moist and fluffy orange-chocolate cake