My son has come to an age where he seems to be able to eat basically all the time. He is constantly going into the kitchen to look for something to munch on even though he just ate several large portions of whatever I cooked at the last meal. The most popular snacks are fruit and muffins. We can easily go through 40 (mini) muffins on a day. No wonder I bake so much! These are my latest creation. I made them twice within 12 hours… They are delicious!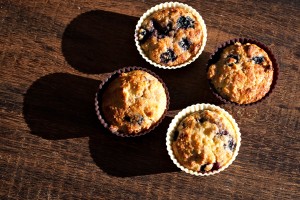 Of the two batches I made – one was made with butter, the other with coconut oil. The result is pretty much the same so use what you prefer. In both cases however – start by turning the oven on. 180 C (350 F)
In a big bowl mix the following:
1 banana, mashed
4 eggs
1 tbsp honey
50 g (about 1.8 ounce – or 3 tbsp's) butter OR coconut oil
To this add
the grated peel of 2 (organic) lemons
and the juice of one of those lemons
In a smaller bowl or measure mug – the dry ingredients:
150 ml (0.6 cup) almond flour – which is ground blanched almonds
150 ml (0.6 cup) shredded coconut – grind first together with:
4 dried pitted apricots (grind together with the shredded coconut)
2 tbsp's coconut flour
2 teaspoons baking powder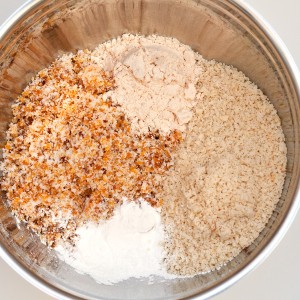 You can see in the picture, the ground shredded coconut with the small pieces of apricots mixed in – looks all orange.
Now add the mixed dry ingredients to the wet and stir.
Also add
200 ml blueberries (I use frozen – direct from the freezer)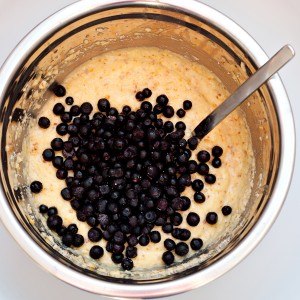 Don't over-do it when stirring in the blueberries – they will just break and make a grey mess of it. Not pretty! This is one of the reasons I add the blueberries frozen… they don't break as fast.
Then fill your forms. Anyone following this blog will know that I prefer my mini sized silicon muffin forms. But feel free to pick whatever you have.  This made 34 mini muffins – which would be about 10 normal sized ones….
Bake in the middle part of the oven for about 18 minutes (larger muffins needs a few more minutes).
Enjoy!
Liesel
34 blueberry lemon mini muffins