Yes, I've said it before (when I made the Pumpkin and Carrot Apple Cake) but I'll say it again – I love having cake for lunch! I'm also pretty good at telling myself it's ok, by putting as much "real food" as possible inside the cake. Eggs, sweet potato, butter, apples and some nuts… What can I say – I'm easy to convince!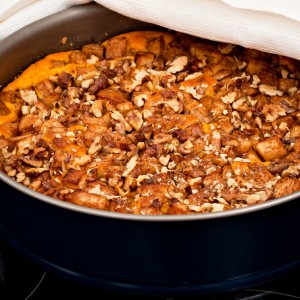 Start by peeling and cutting a sweet potato (or two) into pieces. Mine was 420 g (0.9 lb) – so aim for that. Boil for about 15 minutes in salted water – until soft.
While the potato is boiling you can peel the apples. Getting the whole peel of in one piece will earn you extra points – even if nobody is there to witness! I used 3 apples (Pink Lady) – but they were pretty huge, so you might need more if you have smaller apples… Now cut them into pieces and fry them in some butter – actually, fry them in a good bit of butter. Something like 50-60 gram (4 tbsp's)… Add cinnamon – about 1 tbsp. Fry for a few minutes until the apple pieces are golden and a bit soft. Then put to the side and leave it for now.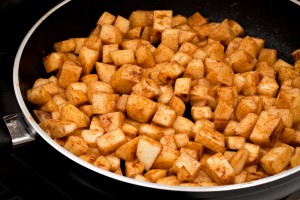 Just to repeat – this was what we needed:
 3 large apples
50 – 60 g (4tbsp's) butter
1 tbsp Cinnamon
Potatoes still need a few minutes? OK – then crack 5 eggs into a large bowl and add 1 tbsp vinegar. The vinegar helps the baking powder to react and rise. You won't taste it though – no worries! Whisk with an electrical whisk
For "dry ingredients" I used 200 ml almond flour (ground blanched almonds) – but you can basically use any ground nuts, or ground shredded coconut, or ground sunflower seeds. The taste will be a bit different – but the amount is small compared to the other stuff, so no big deal really. Add 1 teaspoon baking powder to your dry ingredient and mix it
Oh boy,  we forgot the oven! Turn it on now – 180 C (350 F)
And prepare a baking form while you're at it – with butter and almond flour (or shredded coconut or flaxseeds or…. You know, what you have). I used a 28 cm (11 inch) wide round form. See what you can find similar to that size.
Now the potatoes should be done – drain the water, and add about 50 g (3 tbsp's) butter to the pot. Let it melt and then mix to a puree with a hand mixer.
Then add the puree to the eggs and whisk. Also add the dry ingredients and whisk.
Ok – so fill the lovely orange cake batter into your form. Then spread, sprinkle or drop the fried apples over the batter. Try to get it as even as possible from the beginning because you won't be able to "rearrange" once done. Or, it'll get messy if you do…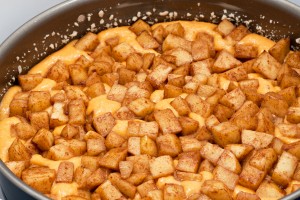 Now, if you feel like it, you could add some chopped nuts over the apples. (I used walnuts).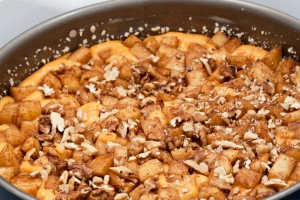 And then slightly press the apples (and nuts) into the batter.
Bake in the lower part of your oven for 35 minutes.
Serve as it is, or with wipped cream (maybe with added vanilla) or quark.
Breakfast, lunch, afternoon snack or dessert – What ever way you choose to eat it – I hope you enjoy it as much as I did!
Liesel
Liesels Real food Apple cake