Christmas is coming closer and the shops are full of sweet temptations. I'm thinking we need something to treat ourselves with, without going totally overboard! These sweets are filled with intense Christmas flavors, takes less then 10 minutes to make, and they fit a healthy lifestyle. – There's really no excuse not to make them…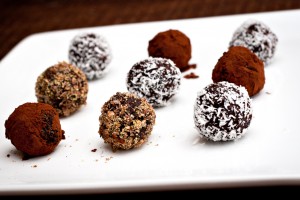 Now, before we start making "godis" (which is Swedish and means "sweets") – we're going to mix some Christmas spice! I decided to do this since measuring tiny amounts of each spice is difficult – so I do a mix and store it in a box and use it for all different kinds of baking – and for these sweets.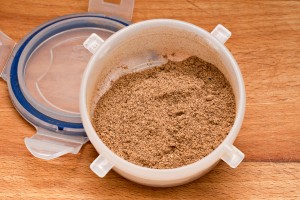 Christmas spice:
Just mix together the following and store in a small glass jar or box with lid:
2 teaspoons ginger (ground)
2 teaspoons cinnamon (ground)
2 teaspoons cloves (ground)
1 teaspoon cardamom (ground)
and if you have access to – 1 teaspoon pommeransskal. This is a Swedish spice – basically dried and ground citrus peel. Never seen it outside of Sweden, so just skip it if you don't have it.
OK – now back to the godis…
Just like in the "A Sweet Treat and No Tricks" we're going to use dries fruit for sweetness. I like the combination of dates and apricots – but you can stick with just one of them if you don't have both.
All we need is a small mixer and a bowl and spoon – and this…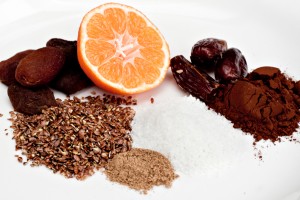 Start with:
5 dried apricots
3 dried pitted dates (or take 8 of either the apricots OR the dates)
1 tbsp ground flaxseeds (also called linseeds) – if you have whole flaxseeds, then lightly ground them already before adding otherwise they will only stick to the fruit and not "open"
1 tbsp shredded coconut
1 tbsp cacao powder
½ teaspoon "Christmas spice" – the one we just mixed…
Put all of the above in a small mixer and grind it until it looks something like this – transfer to the bowl.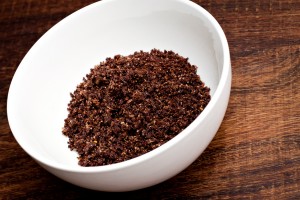 Then press the juice of half a mandarin orange (or normal orange) into the bowl. Work with a spoon to make a sticky dough.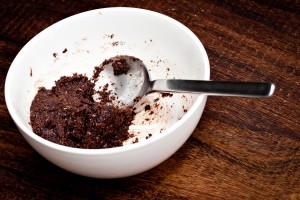 Form 10 little balls and roll them in, either, shredded coconut, cacao powder, ground flaxseeds or ground nuts.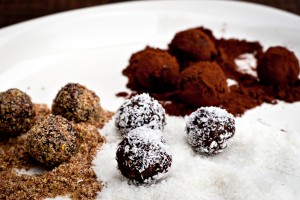 Done! I store mine in the fridge, since I love them cold…
Now here's an idea – You can roll a few up in a piece of plastic foil (the kind you use for gift wrapping or wrapping flowers…) – tie the ends with a nice ribbon and give as a small and simple gift. It is the season after all…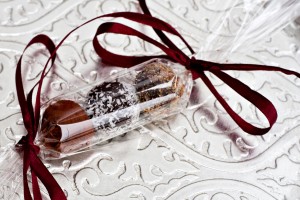 Have fun and enjoy!
Liesel
All Natural (and quick!) Christmas Sweets