Not being a particularly big fan of zucchini – I don't know why I keep buying them. Again I found myself staring at one in the fridge thinking – I really should use that for something before it goes bad. So I thought of the root celery bread I made a while back and decided to do something similar… Zucchini and lemon bread!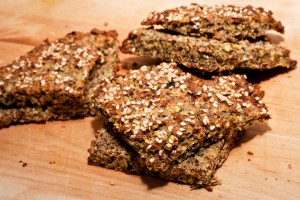 Since zucchini does not have much taste of it's own I added lemon peel which turned out a success if I may say so myself!
Turn the oven on to 180 C (350 F)
Start by grating
1 big zucchini
and lemon peel from one lemon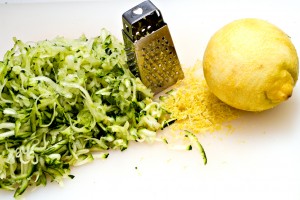 And yes – I do have a bigger grater, that I used for grating the zucchini! 🙂
In a bowl whisk the following
And then add the zucchini and lemon peel to it
Melt 80 g (2.8 ounce) butter and add that as well.
In a smaller bowl mix this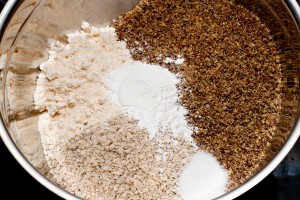 200 ml (0.8 cup) flax seeds – yes please, grind them first in a mixer or grinder.
100 ml (0.4 cup) sunflower seeds – same here, grind to a fine powder
3 tbsp's coconut flour
2 teaspoons baking powder
½ teaspoon salt
And also add that to the eggs and zucchini – and stir. I use the electrical whisks – soooo handy and quick!
This time – to make things easy – I did not use any form, but just spread the dough on a baking sheet (on the baking tray, that is). Form it like a square. The color isn't really appealing, so I sprinkled some sesame seeds over to make it look more attractive… You could use other seeds, or leave it as it is.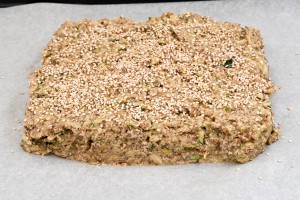 Bake in the lower part of the oven for about 40 minutes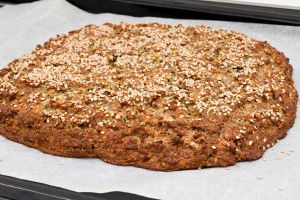 It spread a little – but not much.
Cut into squares and just like with the root celery bread, you have to then cut them in half and "roast" them in the oven to get rid of the soggy egg consistence. So worth it!
This is great with butter, a slice of goat cheese and some bell pepper! –  That was my lunch yesterday…  Today I wanted something sweet as a mid-morning snack – so I spread one piece of the (roasted!) bread with almond butter (100% almond) and sliced some banana over that…. Felt kind of childish 🙂 but was delicious!!
Liesel
From unwanted zucchini – to much wanted bread