The British are famous for their (tea and) scones. These lovely little crumbly pieces of bread that you should really eat fresh out of the oven. Of course I had to try and make a grain free – gluten free – version of it! And, oh my, these are indeed lovely!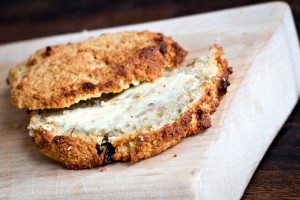 This is easy! Start by turning the oven to 180 C (350 F), because you'll will be quick as a flash.
In a bowl, mash
1 big banana
add 2 eggs and whisk
In a mixer / grinder
200 ml shredded coconut
5 dried apricots – mix / grind with the coconut until it looks something like this: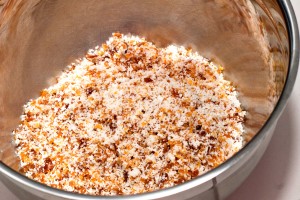 Jolly good! Now – to the coconut-apricot mixture add
200 ml (0.8 cup) almond powder
50 ml (3 tbsp's) coconut flour
1 teaspoon baking powder
½ teaspoon vanilla powder (or the inside of a vanilla bean)
Then add the dry ingredients to the banana-egg mix and give it a good stir.
melt 50 g (0.1 lb) butter and add that.
And 100 ml (0.4 cup) raisins (optional)
And stir some more.
On a baking tray, I suggest on a baking sheet, using two spoons – make 8 "cakes" of the batter. This is not a beauty contest – so no points for perfect shapes or anything – just try to make them even, and not too high.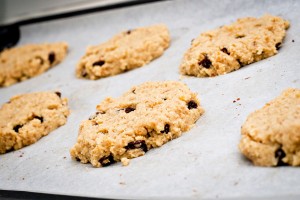 Bake in the lower part of the oven for 15 – 20 minutes (mine was 18 minutes) until they have a nice color.
Let cool down a little bit and then dig in!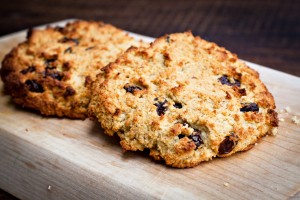 Add butter, jam, cheese – whatever you like – and just enjoy!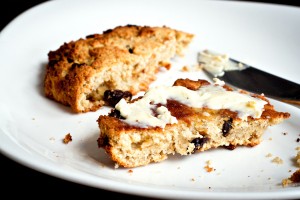 You want to have them for breakfast, but are too lazy tired in the morning?  This is what I do: Prepare the dry ingredients the evening before (and store in an airtight box). Then leave a bowl on the counter with the banana (unpeeled) and a note saying "2 eggs and 50 g (or 0.1 lb) butter – oven to 180 (or 350)" – and put the dry ingredients next to it. Easy as that…. And you'll be done in a moment next morning!
And as the British say – How lovely! 🙂
Liesel
8 scones – as quick as a flash!