I just realized that two of my favorite readers have the same birthday – which is today! So – happy birthday Anna and Miia! And what could be a better post on a day like this than a cake? And not just any cake – but the one and only, the most famous German cake… The black forest cake! – aka "Schwarzwälder Kirschtorte". So girls – this one is for you!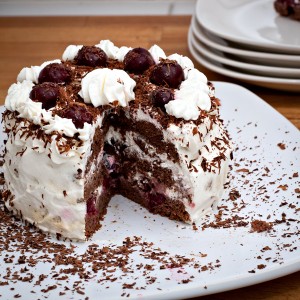 If you have your cherries in the freezer – get them out and let them taw.
Turn the oven to 170 C (340 F)
In a big bowl:
1 small banana (or a half normal sized one) – mash
2 eggs
½ tbsp honey
½ tbsp vinegar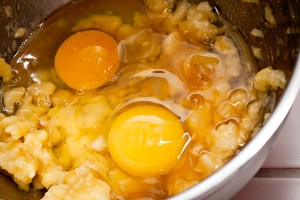 Mix with an electrical whisk
Prepare the form you want to use. I have a really cute little round spring form, only 14 cm wide (5.5 inch) – perfect for a cake, for just the four of us. And this is actually a good trick if you want to limit your intake of cakes… Don't bake a huge cake if you are only a few to eat it. You'll have leftovers and if you are anything like me – you'll be passing by the fridge every so often to just have a bite… Anyway – butter and almond flour will do the job preparing the form.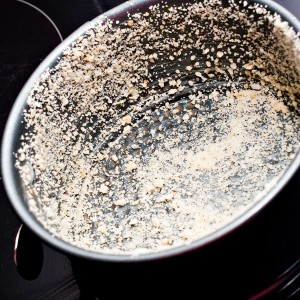 In a smaller bowl – mix the following:
100 ml (0.4 cup) shredded coconut + 3 dried pitted apricots – ground together in a mixer first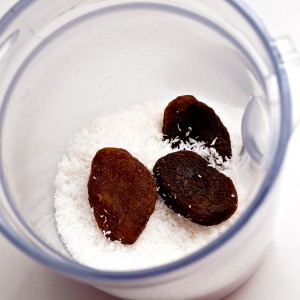 100 ml (0.4 cup) almond flour – which is ground blanched almonds
2 tbsp's coconut flour
2 tbsp's cacao powder
2 teaspoons baking powder
a pinch of salt – something like 1/8 teaspoon
Also melt
25 g (something like 2 tbsp's) butter
Mix everything and fill the form.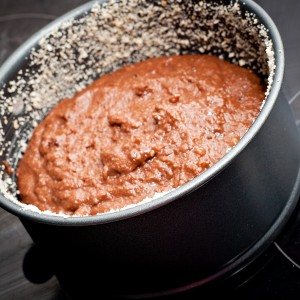 Bake in the lower part of the oven for 20-25 minutes. Mine was 22 minutes….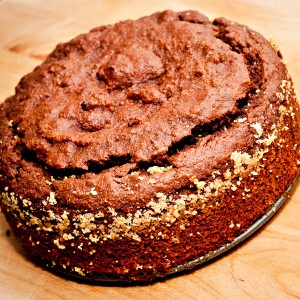 Now, once done and cooled down – you want to cut the cake into 3 layers. This is really not a talent of mine, but even so – I managed, using a long thin knife and being very careful!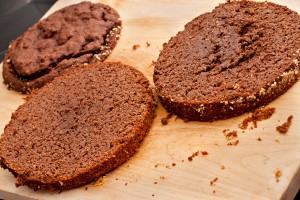 You need whipped cream for this cake, and to make sure it does not lose its height I added some gelatin to the cream. This is just for the look and does nothing for the taste so you do as you wish – ok? Read the instructions on your gelatin if you wish to add that.
400 ml (1.6 cup) of cream
Optionaly – gelatin
Whip until hard.
Now, on the first cake layer, spread first some whipped cream, then some cherries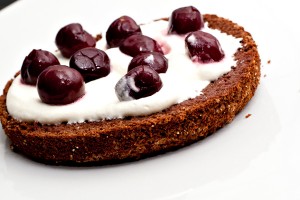 and then cover with more whipped cream.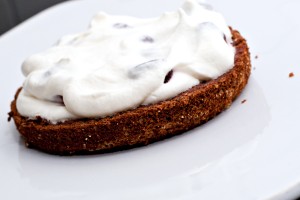 Put the second cake layer over it and repeat the process.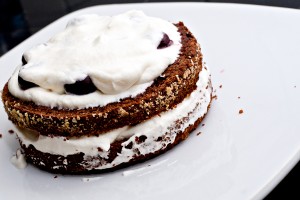 Then, place the third cake layer over that and cover the whole cake with whipped cream.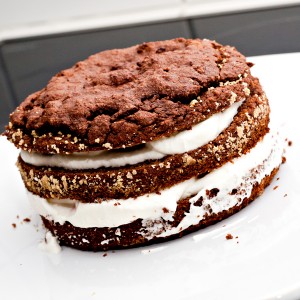 Now – I almost suggest you google "Schwarzwälder Kirschtorte" and get some inspiration for how to decorate your cake…. OR – you just go creative and crazy with some cherries, some extra cream and some grated dark chocolate. 🙂 This is how mine turned out…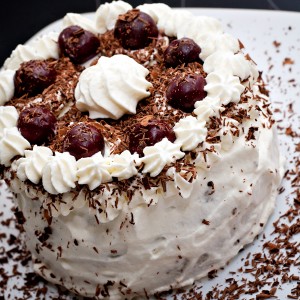 I just placed 8 cherries on the cake, grated some dark chocolate over the top and then used an icing bag to decorate with some extra cream.
And – you don't need to have a birthday to eat a cake…. Any sunny day or tuesday evening is worth celebrating!
Enjoy!
Liesel
Black forest cake for a happy healthy birthday!