We eat scones on a fairly regular basis and lately I vary the recipe using small tweaks to sneak in some vegetables and make them less sweet. This last time they turned out really great so I thought I'd share the "new" recipe with you.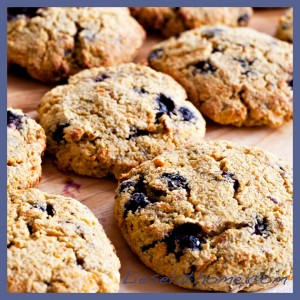 The added raisins in the original recipe, is one of the things I've been working around lately. They just turn out too sweet that way. So – adding blueberries instead is a great idea.
Now, this time I went a few steps further. I always have carrots at home and cook with them daily – as you can see in my post called 7 days, 7 ways to cook carrots. So yesterday I added a carrot to the scones as well. Here we go:
Turn on the oven – to 180 C (350 F)
In a big bowl:
Mash one banana
Add 2 eggs
And (optional!) 1 medium sized grated carrot – and whisk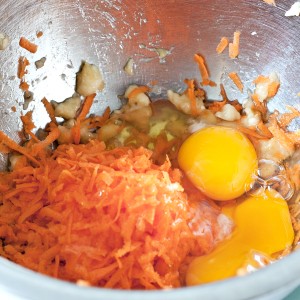 In a mixer / grinder
Mix 200 ml (0.8 cup) shredded coconut
With 3 dried apricots
In a smaller bowl
The mixed coconut-apricots
200 ml (0.8 cup) almond flour – which is ground blanched almonds
50 ml (about 3 tbsp's) coconut flour
1 teaspoon baking powder
½ teaspoon vanilla powder – or some vanilla extract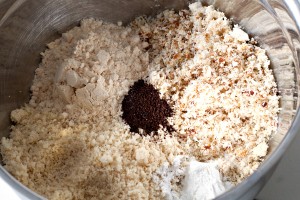 stir with a spoon
Then add the dry ingredients to the wet and mix thoroughly.
Melt 50 g (1.8 ounce) butter and add to the mix.
Also get the blueberries – fresh or frozen – and add 100 ml (0.4 cup) or them. If they are frozen – add them directly from the freezer (still frozen!). Otherwise you'll end up with blueberry mash and that does not look all that great….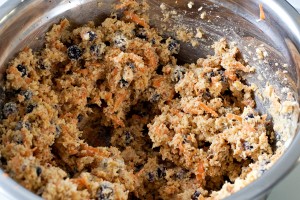 Give this a quick stir – just enough to blend, but not enough to mash the berries.
Then, with your hands, form 10 – 12 rather flat "cakes" and place them on a baking tray. (Parchment paper is king).  If you did not add any carrot to the batch – you will end up with fewer (or smaller :-)) "cakes".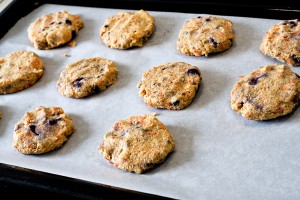 Bake in the lower part of the oven for 15-20 minutes until they have a bit of color.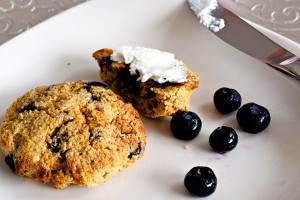 Tastes lovely, fresh from the oven, with some cream cheese.
Enjoy
Liesel
Scones with blueberries (and carrots)