No way! Don't tell me you have never made liver pate yourself? Why? It's soooo easy! Well, hmm, I have to admit – neither had I, until today.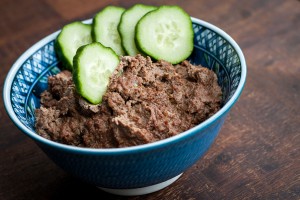 And – it was actually really quite easy and I will share with you the recipe to see for yourself. Now – this was in no way invented by me. In fact – you can find the original recipe I tried to follow right here: http://paleo.com.au/2013/02/recipe-paleo-chicken-liver-pate/
But the reason I am still posting it over on my blog is to show how you can use being creative when cooking after a recipe but realizing you don't have the right amount of things or even the right ingredients.
And before we start – let me just point out that the "correct spelling" of "pate" with little roofs and accents can be seen in the headline, but for the sake of easy – I'm sticking to the letters I actually have on my keyboard for the rest of the post – ok?
So to start with – the original recipe calls for 200 g chicken liver, but I had just picked up a pack of 295 g. Well, no problem – easy math's tell us to also take times 1.5 of everything else.
Then the recipe says 150 g butter (or tallow,

 

bacon fat or coconut oil) – but I had a nice glass of goose fat in my fridge and decided to use that instead. Also, since I am famous for "forgetting to add the fat" when I'm baking – I decided to add the full amount to the pan right from the start instead of just a bit as the recipe says.
Then the garlic clove – I actually had that!!! And did just what the recipe says – which is, I chopped it finely!
Now, shallots, I did not have, so I added onion instead. ¼ the recipe calls for, but that times 1.5 plus the fact that mine was tiny, made me add a whole one.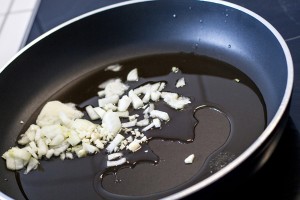 Thyme – nope, did not have fresh ones at home so the dried version would have to due. ¼ teaspoon – and I stuck to that since I thought the dried one would pack easier and have smaller more compact volume…. Am I right on this?
Grated nutmeg – Yes!! Had this and grated it fresh! But realizing right now that I used the actual ¼ teaspoon and forgot to add the extra 50%… Ah, well…
Next time, I'll add more of both!
On to the brandy (that was optional) but see – we did not have this. So in sheer desperation I used whiskey. That should be ok too, right? Thinking of it – it's kind of funny that we add alcoholic beverage to liver…

🙂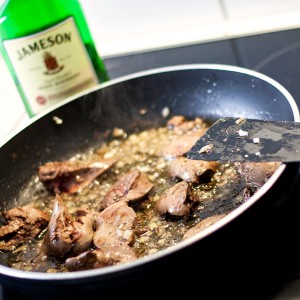 And the salt and pepper was easy – but at the same time difficult since no amounts was mentioned. I think I added to little salt (about ¼ teaspoon) and will use more (maybe ½ teaspoon?) next time .
 Also – I decided not to risk getting my whole kitchen sprayed with chicken liver, so I transferred the mix to a bowl before mixing it with my hand mixer. I'm pretty sure that saved some big time cleaning.
So, all in all – I think it was a success! Chicken liver is cheap actually. I bought organic since it is the organ that kind of cleans up… and still, my 295 grams was only just above 2 Euros.
Liver pate can be enjoyed like a dip, with sticks of vegetables or on crackers – like these.  Or make cucumber "sandwiches" spreading the pate between two slices of cucumber.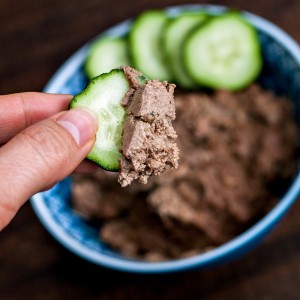 Enjoy,
Liesel
Chicken liver pâté – creativly home made