We've been loving the chocolate chia seed pudding I wrote about a while back, in a guest post over at  CLEW.lu, eating it a couple of times every week ever since – so I thought we could need a bit of variation. The other day I experimented with blueberries and made a colorful version of the pudding. We all liked it, but a vote in the family afterwards, about which dessert was better, ended 3 votes for chocolate and 1 vote for blueberry – so it's good indeed, but maybe not awesome…? Or was the competition just too hard? You'll have to try and decide for yourself!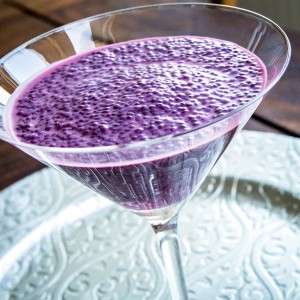 This is how it goes. Start by making the coconut milk, by putting
300 ml (just over a cup) shredded coconut and
200 ml (0.8 cup) (frozen) blueberries in a blender.
Add 400 ml warm (but not boiling) water and mix for a few minutes. See also my post on how to make coconut milk…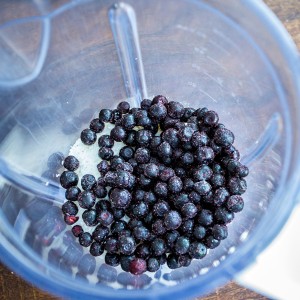 Once thoroughly blended, transfer to a cheese cloth (or a piece of thin fabric) in a sieve over a bowl – again, check my post on how to make coconut milk and you'll find a better description. Use your hands to really press the "milk" out of the now purple coconut mass.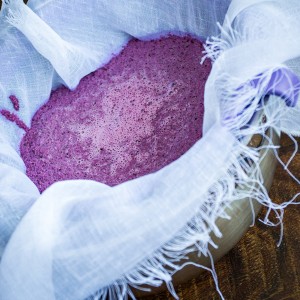 Save the shredded coconut for later!
Then pour the purple coconut milk into a container with an airtight lid. I have plastic boxes from the brand Lock&Lock that are perfect for this, but a clean jar or even a bottle with screw lid could work if you have nothing else.
Now add to the "milk":
1-2 tbsp's honey, depending on your preference of sweetness
100 ml (0.4 cup) chia seeds
I also added some vanilla powder but we could not taste it, so to be honest – vanilla is pricey – save it for something else! Maybe I'll try some lemon next time…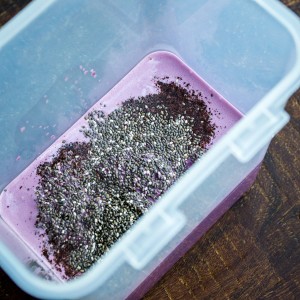 Put the lid back on and shake it really, really properly until all is totally mixed. Repeat the shaking after 5 minutes and again another 5 minutes later. By now, the chia seeds should have started swelling and giving the pudding some more texture. Once that happens – divide between 4 glasses or bowls, and let them cool down (and settle) in the fridge for at least one hour.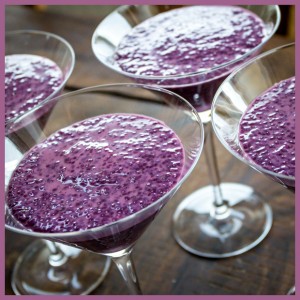 I'm sure you can come up with some nice decoration for this. Maybe as simple as a few blueberries. Or a dollop of whipped cream and some fresh menthe or lemon balm (Melissa). I had nothing, but we survived anyway! 🙂 The color of the pudding is kind of cool just by itself….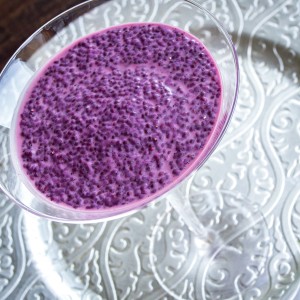 And now what about the shredded coconut? Let it dry in the oven. Just spread it out on a baking tray or in an oven form and put it in the oven. Heat up for 10 minutes (150 C) and then turn off but leave the coconut in the oven to dry. (I normally leave it over night). Then you can make the cookies from the pic below. You'll find the recipe here!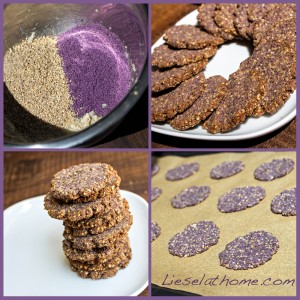 Enjoy!
 Liesel