You know how it is, those mornings when you debate with your tired self whether to put the spinach in the scrambled eggs, in the muffins, or – if you are really tired – in the yoghurt… This morning the muffin option won. Thankfully! They are excellent also for an afternoon tea or just like that as a snack.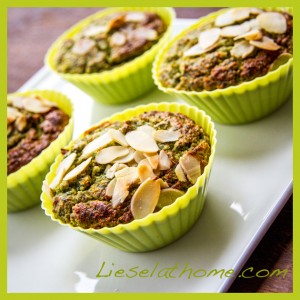 So anyways, there I was, really tired and realizing we had quite a few bananas left, that were getting dangerously close to being too ripe. So in they went as well. This is how you make the spinach banana muffin with a lemon twist:
Start with some spinach. I have the frozen kind, so I thawed it in a pot.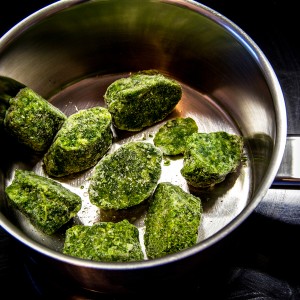 Then, turn your oven to 180 C (350 F)
 And now, in a big bowl:
3 bananas, mash them. If they are very big, you might only take 2…
the peel of 1 lemon
 And leave that for now….
Mix the dry ingredients separately (while we're still waiting for those little frozen green blocks to thaw…)
100 ml (0.4 cup) flaxseeds – that is also called linseeds – grind them first.
200 ml (0.8 cup) shredded coconut – also grind first.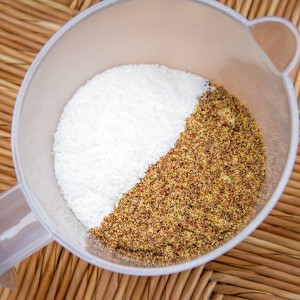 looks a bit like yin and yang …. but keep adding:
3 tbsp's coconut flour
2 teaspoons baking powder
1 teaspoon ginger powder (or – maybe even fresh, grated, could work…?)
  mix together with a spoon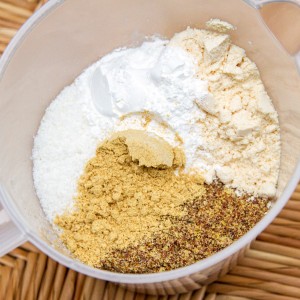 Now, finally the spinach is ready to go, so add it to the banana mash and use a hand mixer to make a fine green mash of it (to avoid bigger leafy green parts in your muffins).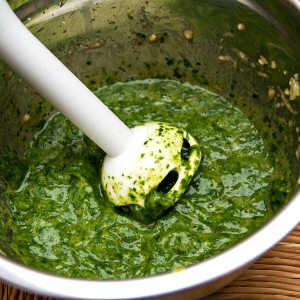 Now take the pot that you had for thawing the spinach and use it to melt:
50 g  (1.8 ounce) butter or coconut oil or ghee, and leave it to cool down a bit.
Then, to the green banana spinach mash, add:
6 eggs
1 tbsp vinegar (I use apple cider vinegar)
1 or 2 tbsp's honey
the juice of one lemon (preferable the same one you just took the peel off…)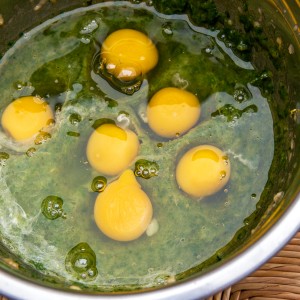 Mix this with an electrical whisk.
 Add the dry ingredients and keep whisking.
And lastly add the melted butter and whisk some more.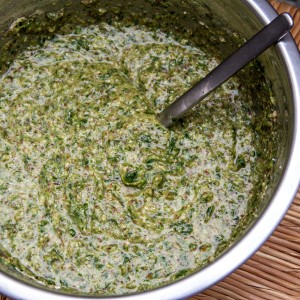 Done!
Now, fill your muffin forms. The green color inspired me to use my medium sized silicon forms (them being green and orange).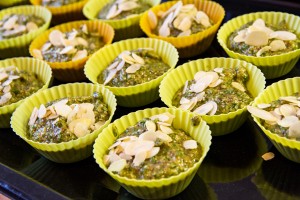 I also sprinkled some sliced almonds over them, which looks nice – but can be left out if you want to make them nut free!
 Bake in the middle of the oven for 25 minutes.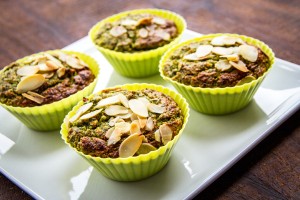 Ahhh, and then add some sunshine! What a great start of the day! 🙂
Enjoy!
Liesel
Spinach muffins with a lemon twist