I have posted recipes for chia puddings, and even my favorite chocolate chia pudding, but I decided it was time for an upgrade. This upgrade I have my son to thank for. It was his idea, and it turned out so great that this is the version I make regularly now. If you can handle lactose – try it!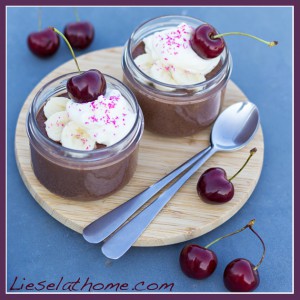 The recipe is really pretty much the same as the one I posted before – but I make a bigger batch these days. For convenience – I will repeat the whole process again so you don't have to switch back and forth between the pages.
We'll start by making coconut milk. This takes about 5 minutes and is so worth it, both because of the much better taste and because of the price!
In a blender, mix:
250 g (8.8 oz.) shredded coconut. You need high quality, preferably organic. I use the brand Rapunzel that can be found in our local organic shop here in Luxembourg.
1 liter (2 pints / 4.2 cup) warm but not hot water.
blend on high speed for 30 seconds up to a minute. Turn off, let swell for a minute or two and then blend again for another 30-60 seconds.
Then empty the wet coconut into a cheese cloth placed over a sieve, over a bowl – like in the picture: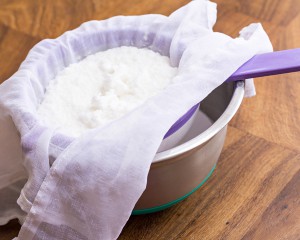 I don't actually have a cheese cloth, so I use a thin piece of fabric that I cut out of an old (washed) curtain… True story! 🙂 A kitchen towel won't do the job since the fabric is do dense / thick.
Anyway – then gather the sides of the cloth / fabric and using a bit of (wo)man power, press out the "milk". The best milk comes at the end so make sure to really work it!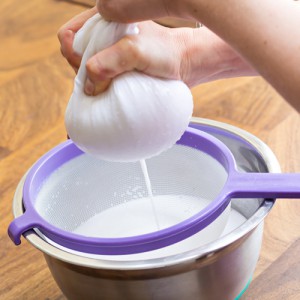 Now, remove the sieve and cloth (with coconut rest) and add the other ingredients to the coconut milk:
100 ml (0.4 cup) GROUND flax seeds – also called linseeds. Really ground – to powder.
150 ml (0.6 cup) chia seeds
150 ml (0.6 cup) cocoa powder – the natural unsweetened one
2-3 tbsp. honey
And stir using a normal whisk. This looks a bit sad but no worries – it will start to swell!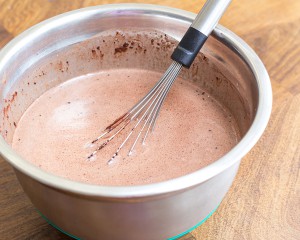 Just stir every few minutes for the next 20 minutes and suddenly it looks more like this: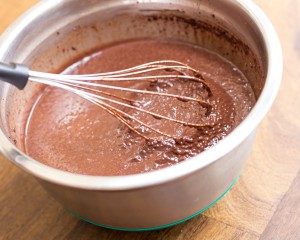 This is when we add the secret ingredient… And this is how my son came up with it: I normally add a bit of whipped cream on top of the pudding. My son would stir it into the pudding before eating it and once commented that I should just add the whipped cream to the batch. I tried that, and it was ok, but not totally awesome. So I then tried adding mascarpone – instead of whipped cream – and this was a success!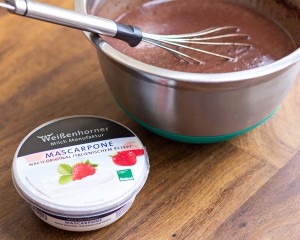 So now – add 250 g Mascarpone and stir until totally mixed in. Then fill your forms, glasses, pots or whatever you have. I have just discovered how perfect the washed out coconut oil glasses / jars works so I fill them. I can even put the lid on and stack them on top of each other in the fridge! This makes 8 portions: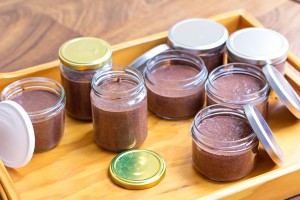 Other possibilities is to fill wine glasses, cocktail glasses, sherry glasses (for mini portions), bowls or even muffin forms….
Leave the puddings to cool and settle in the fridge – for about 30-40 minutes at least.
I make 8 portions these days because the family loves them, and we have them for dessert one evening and then we eat them for breakfast, or the kids bring one to school as snack the next day (great in those jars with lids), or we have them as dessert the next evening. The muffin forms are great for making plenty of smaller portions.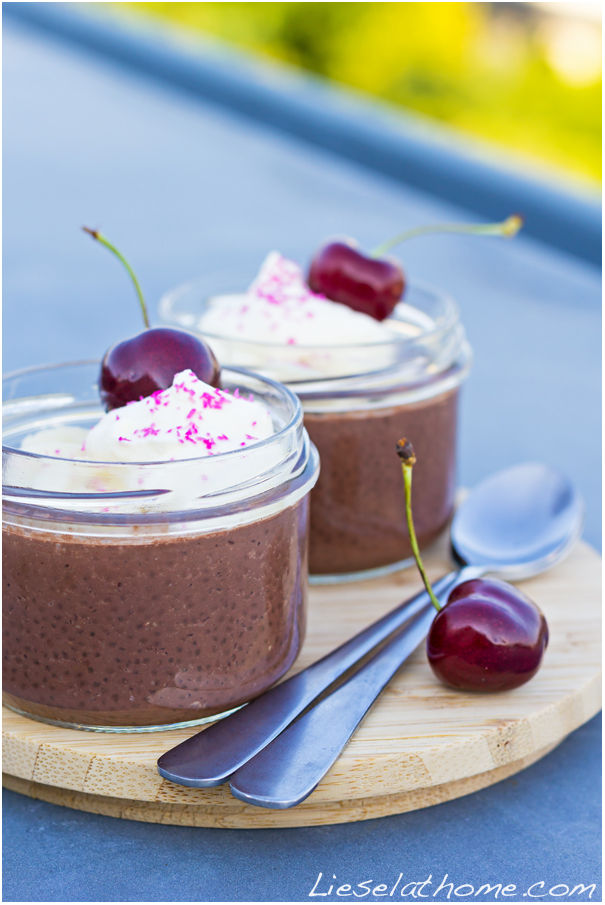 Topping with a few banana slices, some whipped cream and a few fresh cherries – and you have an absolutely wonderful dessert!
Enjoy!
Liesel
Chocolate chia pudding – Luxus version