A few days ago I baked lemon muffins for the opening of a Pilates studio here in Luxembourg. As the incredible fragrance of sweet lemon filled my kitchen, I got thinking… How could I improve these? A few days later – here's an amazing recipe for lemon cranberry muffins. The step certainly wasn't big! But the cranberries does make the muffins just a little bit extra special. And they look very cute with the red dot!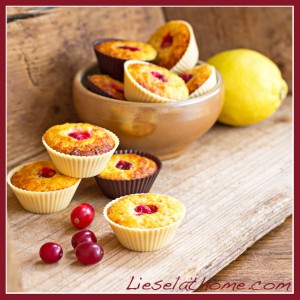 The recipe is easy. Turn on your oven to 180 C (360 F) and prepare muffin forms on a baking tray. I keep repeating this – but I do recommend the silicon forms I use. No garbage, no waste and the muffins just slips out of the forms easily. This recipe makes about 30-35 mini muffins (like mine pictured) or about 10-12 normal sized ones.
In a big bowl start with the wet ingredients:
1 banana
the grated zest (peel) of 2 organic lemons
juice of one of those lemons
4 tbsp. coconut oil (OR 50 g / 4 tbsp. melted butter)
2 tbsp. honey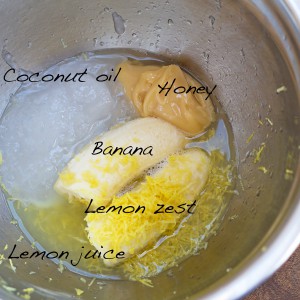 Mash the banana and mix the ingredients (I use a hand mixer for this) and then add:
And mix them in. I added the eggs later because my eggs always come directly from the fridge (bad planning) so they are cold. Them being cold makes the coconut oil harden – but if you mix the other ingredients first and then add the eggs and keep mixing – you can work around this. OK – leave this for now and do the dry ingredients…
In a mixer / grinder / chopper, mix 4 dried apricots with 100 ml (0.4 cup) shredded coconut. Then add:
100 ml almond flour
2 tbsp. coconut flour
1.5 teaspoon baking powder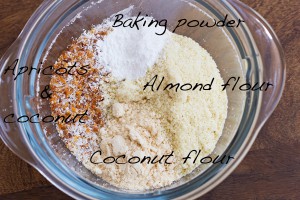 You end up with this. On the left you see the apricot-coconut mix. If you don't have a grinder / mixer / chopper  either try chopping them by hand (it's just 4 pieces so it shouldn't be too hard), or leave the apricots out, just add the shredded coconut and possibly add a spoon more of the honey in the wet ingredients to compensate for the sweetness of the apricots.
Mix the dry ingredients before adding them to the wet ingredients. Fill your muffin forms about 3/4 up (or a little more but not quite full) then press one cranberry into each muffin if you have small forms like me – or press 3-4 cranberries into each muffin if you have bigger forms.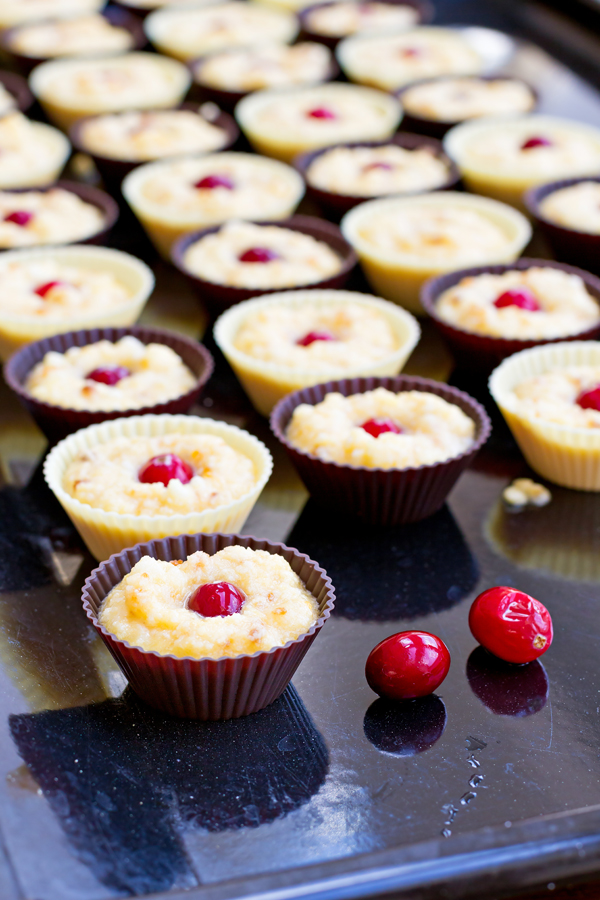 I try to always have cranberries in my freezer. They are quick to thaw under a bit of running water and is perfect for baking or cooking. If your cranberries are very small (size seem to vary a lot!) then you might just want to add a scoop (something like 1/2 cup or about 125 ml) into the muffin batch before filling the forms.
Bake for about 18 minutes – mini muffins like mine, or 23-24 minutes for the bigger, normal sized muffins.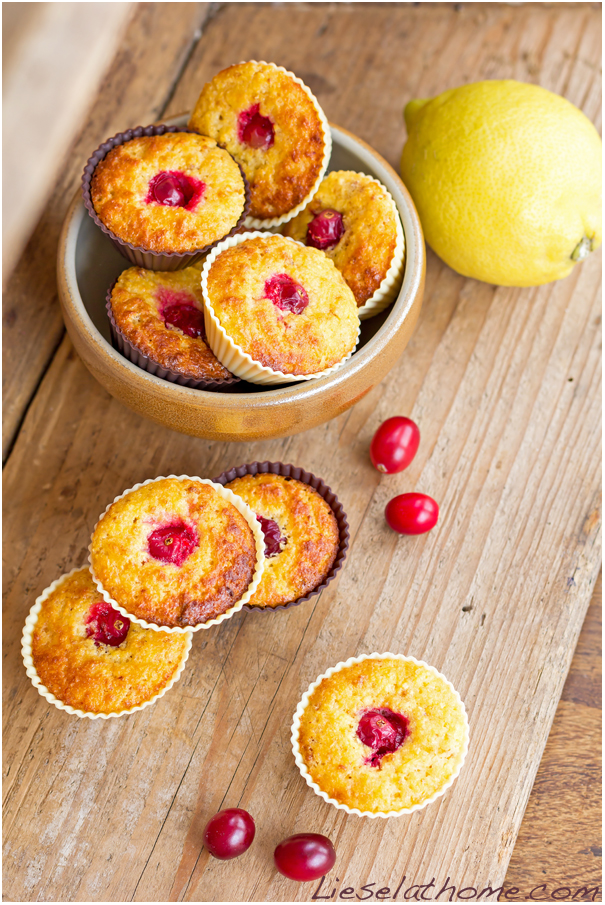 Now I am thinking about making them into cupcakes – but it's almost a shame… I kind of love them the way they are.
Enjoy!
Liesel