The chocolate chip cookie – isn't that the ultimate cookie? If you google it – you'll get thousands of recipes. Most of them claiming to be THE best recipe.  I've made many of these, often delicious, versions before we stopped eating anything with wheat flour or sugar, but never since. It. Was. Time.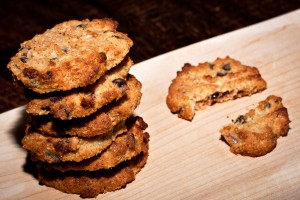 I used one of my earlier favorite recipes – from the Swedish baker, Leila – and adjusted it to fit our, let's call it – life style. I refuse to call something like this a "diet". You're not on a "diet" when you eat muffin for breakfast almost every day, are you? 🙂
And I won't claim these cookies to be THE best chocolate chip cookies ever, but they taste great, are way better for you then "normal" ones, did put a huge smile on the face of my daughter when coming home from school… AND was gone within a couple of hours – husband and kids fighting over the last ones.
Here's what I made – and DO try this at home!
Turn the oven to 160 C (320 F)
Start by chopping some nuts. I used 100 ml (almost half a cup) Hazelnuts.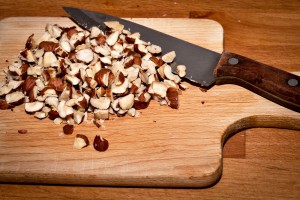 In a bowl, mix
100 g (0.2 lb) room tempered butter.
2 tbsp's of honey
And 1 egg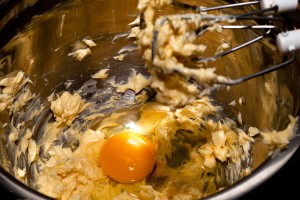 Whisk – which is easiest with an electrical whisk. If you don't have one of those, try a fork. To be honest – I can't see this work with a normal "whisk".
For the dry ingredients I used:
100 ml (0.4 cup) almond flour (which is ground, blanched, almonds)
50 ml (0.2 cup – or about 3 tbsp's) coconut flour
1 teaspoon baking powder
¼ teaspoon salt
And the inside of one vanilla bean (or use vanilla powder)
And I know – I normally give you alternatives for the dry ingredients, but when it comes to cookies, they need to be kind of, eh, crunchy… so this is a tough one. Of course you can try to substitute – but on your own risk 🙂
Mix the dry ingredients before adding them to the butter and egg mix.
Then also add the chopped nuts and about 60-70g (2-2.5 ounce) of chopped dark chocolate or dark chocolate chips.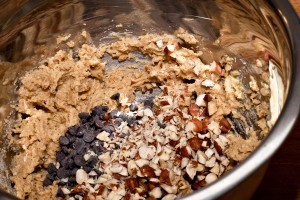 Now, with a spoon – mix it all together.
When it comes to turning a cookie dough into actual cookies, there are many ways of doing this. (Some people even eat the dough before they make it to the oven…. Never understood that, but hey… Who am I to judge?) Anyway – this is the method I usually use: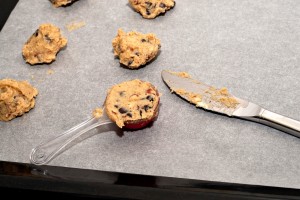 Take a tbsp measuring spoon and a knife (or a small spoon) – figure out the rest yourself. I think you get it. This way the cookies get approximately the same size.
Now, since these cookies won't spread out in the oven, just flatten them with a fork before putting them in.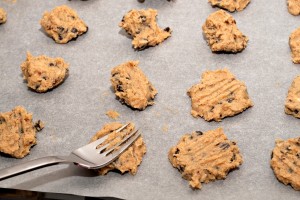 Bake in the lower half of the oven for about 20 minutes. If they are still moist after cooling down a bit – put them back into the oven (that is turned off but probably still a bit warm) and let them dry…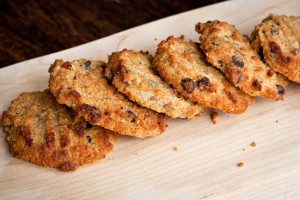 A little warning here – your house will smell like heaven while they are in the oven… Mmmm….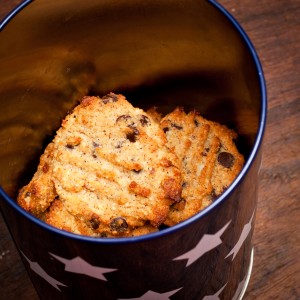 It was 22 cookies. Most of them never made it into this tin, none of them survived the evening… 🙂
Enjoy!
Liesel