Yesterday I thought I'd try something totally new. I always liked the pictures of "red velvet cakes" without ever having tasted one. They are deep red and have some kind of cream white topping, so this was my goal – achieving the look more than the taste…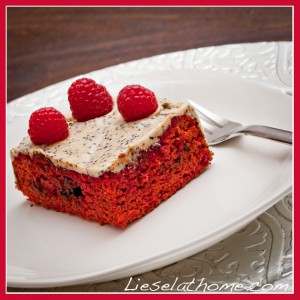 Deep red – the perfect main ingredient would be beetroot.  And if you ever only tried the pickled version of beetroot, you'd be surprised how well this vegetable suits baking. My husband even declared this to be his new favorite cake – and I am prepared to agree!
Start with the beetroot. Mine was a big one, weighing 400g (0.9 lb) so aim for that amount. Peel and cut into pieces. Mind what you're wearing. My lovely white pullover will never look the same again after yesterday… Just saying.
Boil the pieces of beetroot in a little apple juice (not quite covering them – just enough to boil… kind of two thirds covered, ok?) and salt – for about 30 minutes.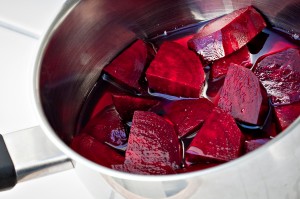 Meanwhile, clean the kitchen, check your e-mails, hang the laundry or whatever there is to do – AND prepare the other ingredients:
In a big bowl
Mash one big banana (or two small ones)
Crack 4 eggs
Add 1 tbsp vinegar (I use a lovely raspberry balsamico – but take what you have)
And 2 tbsp's of honey.
Whisk with an electric whisk
In a smaller bowl mix the dry ingredients
100 ml (0.4 cup) shredded coconut – first run it through a grinder or mixer to make it finer.
150 ml (0.6 cup) almond flour – which is finely ground blanched almonds.
2 tbsp's coconut flour (can be found in most organic shops and yes it's quite expensive – but you don't use much)
2 teaspoons baking powder
Oh, and now we also need to turn on the oven!! 170 C (340 F)
And prepare a baking form by buttering it and dust/sprinkle it with almond flour. I have a lovely square 20 x 20 cm (7.9 x 7.9 inch) form – use what you have that would be approximately equal to that size…
Then chop 40 g (1.4 ounce) dark chocolate into pieces.
Now, once those 30 minutes of boiling is done – drain the fluid (which is beautifully dark red) into a glass and put that to side. (Once cooled down you can keep in the fridge and use as natural food coloring – not needed for this cake, but another time maybe?)
To the drained beetroots add a bit of butter – something like 2-3 tbsp's (30-40 g). Then with a hand mixer carefully, very carefully, mix the beetroot pieces with the butter to a nice and even mash. (This is where my white pullover got tiny pink spots all over….)
Once done – add that mash to the egg mix, whisk and then also add the dry ingredients to this and keep whisking until all is mixed.
It's time to fill the form!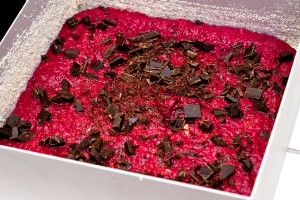 First fill (and spread out) half of the batter in the form. Sprinkle this evenly with the chunks of chopped dark chocolate and then add the rest of the batter on top of that and carefully spread.
Now if this sounded too complicated – just add that chocolate to the batter before filling the form. I just liked the thought of having that layer of chocolate in the middle of the cake…. And it did look nice while eating!
Bake in the bottom part of the oven for about 35 minutes or until a stick (toothpick works) comes out dry.
Let it cool down totally before adding the frosting. I'm not a patient person, or great at planning ahead, so due to being short on time I let mine cool on the balcony with a tea towel covering it.
And this is how I did the frosting – the white cover.
I used butter and Philadelphia cream cheese in a ratio 1 – 1, which was about 80 g of each I might have used slightly more butter… But this ratio is not set in stone so adjust to your own taste if you like. Room tempered butter will mix easily.
Add 1-2 tbsp's honey
Also add the inside of one vanilla bean (or vanilla powder – taste and test how much you like…)
And about 2 tbsp's of poppy seeds
Mix together and spread over the now cooled cake.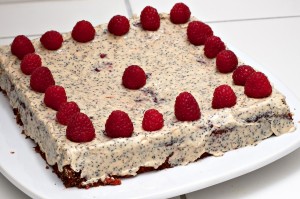 I decorated with some fresh raspberries – any better ideas? Store in the fridge until eaten.
This cake makes about 9 big pieces, or 18 smaller pieces – or even 36 tiny snack sized pieces. The frosting is so filling that even a tiny piece can be satisfying… I'm thinking cocktail party again :-). Look at this picture – cute aren't they…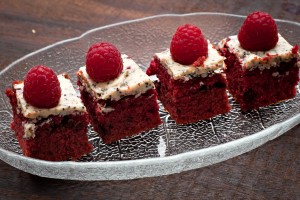 Although – they weren't served on a cocktailparty I'd have to admit, but were popular on our breakfast table this morning… 🙂
Enjoy
Liesel
The amazing Red Beetroot Cake