A friend of mine pointed out that the almond flour I often use can be very pricey in some countries (in her case, Denmark), and if you are baking for your kids class or other bigger group this could get rather expensive. So I thought I'd give you a recipe today where the ingredients should be easy to get and won't cost a fortune. Karin – this one is dedicated to you! 🙂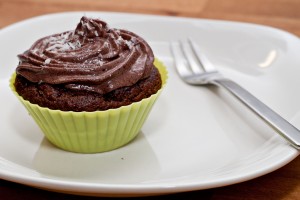 Baking for a bigger group – my tip is still – make mini muffins or mini cupcakes!  Some people (and for sure kids!) often like to just have a small treat and leave it at that. Pictured is a normal sized one hewever – since I made them as a dessert for just the four of us this time.
Here we go – In a big bowl
mash 2 bananas (or three if they are small)
add 4 eggs and whisk until foamy
add 2 tbsp of honey (adjust to your preference)
and 1 tbsp of vinegar. This will react with the baking powder and help your muffin rise. I used a dark balsamico, but use what you have.
Before we forget – turn your oven on at 180 C (350 F)
In a smaller bowl mix the dry ingredients.
125 ml (1/2 cup) sunflower seeds – grind them to a fine powder in your mixer/grinder
125 ml (1/2 cup) shredded coconut – grind it to a fine powder in your mixer/grinder
100 ml ( a bit less than 1/2 cup) flax seeds (also called linseeds) – grind them to a fine powder in your mixer / grinder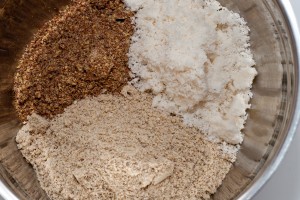 Look at how nice that looks – the grinded stuff! Had to take a pic! 🙂 But back to baking – keep adding to that smaller bowl of dry ingredients:
3 tbsp's of coconut flour (OR if you don't have this – use another 100 ml shredded coconut that you finely grind)
2 teaspoons baking powder
3 tbsp's cacao powder
and I know it sounds weird but add ¼ teaspoon of salt. Trust me on this – it brings out the chocolate flavor.
That's it for the dry stuff.
Now, melt something like 3 tbsp's of butter (or ghee, or use a nut oil) and let cool a bit. I know that is hard to measure – but you know, it's not that important to be exact… Half the time I even forget to put it in at all – find it a day later, still in the microwave… (hmmm…) and the muffins still turns out ok!
Then, if you feel like – chop a handful of nuts. I used walnuts, but you could use whatever nuts you have available. I could think of a good joke or two to that, but there might be kids baking with you, so let's skip that! I'll add a pic instead. 🙂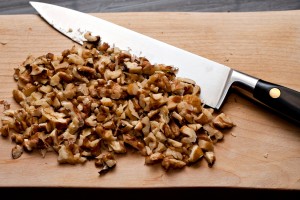 I am all for adding chopped dark chocolate into most anything – but this time we'll save it for the cupcake topping – ok? So no chocolate here…
Instead, now add dry ingredients (and nuts) to the egg-banana mix and keep whisking.
Then add 100 ml (0.4 cup) coconut milk (or cream, or milk)
Lastly add the melted butter, and stir.
Place muffin forms on a baking tray and fill them. I used the normal size forms since I have no intention of treating anyone outside the family today, but you know – minis will last longer in a crowd….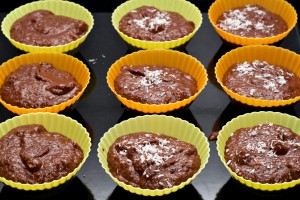 If you have not planned to turn the muffins into cupcakes – you could top them off with some shredded coconut or sliced almond just to make them look nice on their own – I did that to the right ones in the picture.
Off into the oven – bake in the middle part – minis for about 18 minutes, and normal sized ones for about 22-23 minutes.
I'm feeling generous with pictures today and they rise so nicely in the oven that I just had to show you…. 🙂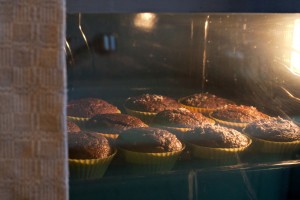 When done – let cool under a tea towel.
Meanwhile – I'll let you in on the secret to making the easiest and loveliest chocolate cupcake topping….
Melt 100 g dark chocolate. I used 85% (that means, really dark – if you want a "milder" taste, go with 70% or even lower). Break the chocolate into pieces and put in a bowl in a pot of hot (but not boiling) water.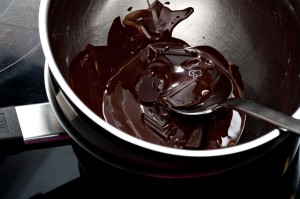 Once melted – take the bowl out of the pot and stir in 200 ml (0.8 cup) of full fat natural yoghurt. Stir until nice creamy and even. With a spoon, place the chocolate yoghurt mix in an icing bag / pastry bag (or use a freezer bag and cut of one corner). Work in a spiral slowly, from out to in, to decorate the muffin. Focus – you can do this! Then let it snow – just a few flakes of shredded coconut on the top. Perfect!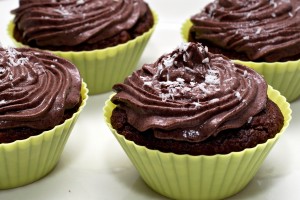 Keep in the fridge until eaten. If you are making mini cupcakes – you might want to double the amounts of the topping (chocolate and yoghurt) to make enough for the whole batch. There tends to be a higher "topping-to-muffin-ratio" when they are smaller….
Enjoy!
Liesel
Chocolate Cupcakes for a Crowd