On a weekly basis I make something we call a berry crumble. As a dessert, as an afternoon – after school – snack or even sometimes as breakfast.
You'll need 25 minutes and 5 ingredients: berries, bananas, flax seeds, shredded coconut and butter
Turn on the oven – 180 C (350 F)
Place 600 g (1.3 lb) Frozen (or fresh) berries in an ovenproof form and thaw them in the microwave oven – or if you are a genius at planning ahead (I have never tried that) you could maybe let them thaw, eh, naturally?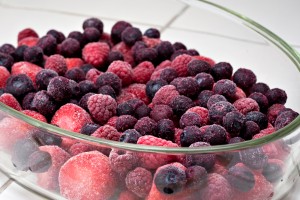 Then slice two bananas over the berries.
In a mixer / grinder mix:
100 ml (0.4 cup) Shredded coconut (not the coconut flour this time)
and 100 ml (0.4 cup) Flax seeds (also called linseeds)
OR you can chop some nuts and use that instead – or in combination with the coconut and flax seeds.
Mix the seeds / coconut / nuts with 30 g (which is about 2 tbsp's) soft Butter and there you have the "crumbly" part. Work it together with a fork.
Add crumble on top of the berries and banana and place in the middle of your oven for about 20 minutes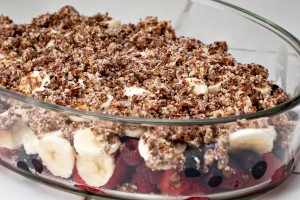 We love to eat the crumble hot, but there have on one weird occasion been left over crumble in our fridge and it definitely works cold as well! 🙂
Eat as it is, or serve with some vanilla quark (in Sweden quark is called kesella). Just take a few spoons of full fat natural quark, drizzle some honey and add some vanilla (the inside of one vanilla bean – or vanilla powder). Stir.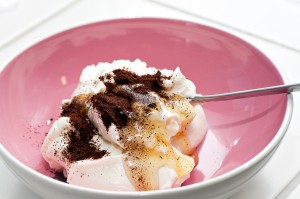 Crumble, is as the name says – a bit of a messy thing. If you are serving the crumble as a dessert and you want to impress your guest a bit – you could layer this in a nice glass, with some quark in between for a fancy effect.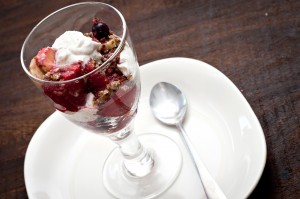 As always – enjoy!
Liesel