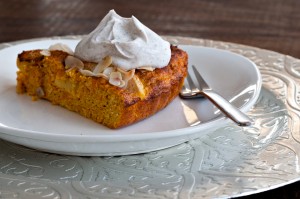 One thing I am struggling with is the fact that my favorite food is cake. But cake is not food in that sense, so you can't have cake for lunch, can you? Well, I'd do almost anything to try and justify eating cake for lunch so here is one of my tricks. I make cake of vegetables! We all know the famous "carrot cake". I'll top that, and present to you: the Carrot and Pumpkin Apple Cake.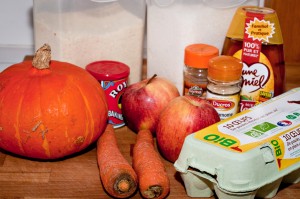 This is pretty much what I used… Let's focus on the carrots and pumpkin shall we, and you know – eggs, they are good for us as well, and so are apples…. So – this is FOOD, right? 🙂
Start by peeling and cutting a piece of pumpkin into smaller pieces. I cut off  about 1/5 of the pumpkin pictured – and that was 250 g (1/2 lb) but size does not always matter…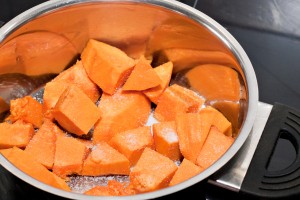 Boil in salted water until soft – this takes about 7-8 minutes.
Then drain the water and add a piece of butter to the pumpkin – something like 2 tbsps – and mash. Let cool down a bit.
Now grate a carrot or two. I used 1 and a half – but it depends on how big they are and how much you want…
Then, in a big bowl
Crack 4 eggs and whisk
Add ½ tbsp of honey (or more if you want a sweet cake)
Then add the grated carrots and whisk some more.
For dry ingredients I used coconut and almond – but feel free to experiment with other nuts or seeds. I like to always grind the shredded coconut in my mixer as it gets less chewy this way, but maybe you like chewy? Anyway – this is how it goes:
Grind / mix 100 ml (0.4 cup) shredded coconut
Add 150 ml (0.6 cup) almond flour (which is ground almonds)
3 tbsps coconut flour (or take more of the almond flour / shredded coconut if you don't have this – about 100ml (0.4 cup) extra)
And 1 teaspoon baking powder
Then use what ever spices you like for an apple cake – my choice is ½ teaspoon cinnamon and ½ teaspoon cardamom.
Mix together the dry ingredients with a spoon.
Then peel and cut 2 apples into pieces. AND turn on the oven – 180 C (350 F) – can you manage both? Good!
Now, to the eggs – add the mashed pumpkin and the dry ingredients and mix all together.
Fill a pie form or other ovenproof form you have.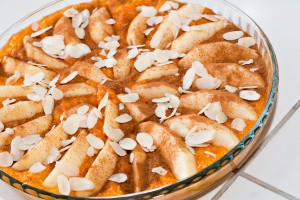 Stick the apple pieces into the brightly orange batter (it's the pumpkin and carrots giving it that color) – kind of halfway down. Sprinkle with a good dose of cinnamon and maybe some sliced almonds or pumpkin seeds for decoration. (My daughter has something against pumpkin seeds so I used almond slices…) Now – doesn't that look great?! Pop into the oven for half an hour and we're done! Enjoy, warm or cold – with for example some vanilla quark (see how that is done in my recipe for Berry Crumble)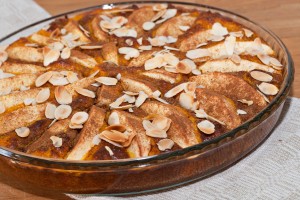 I have to admit – I had this for lunch today :-). But you could also serve it as dessert (or why not for breakfast…!!! Mmmm – I like that idea!!)
Regardless of what time of the day you choose to eat the Pumpkin Carrot Apple Cake – do enjoy it! It's real food, after all! 🙂
Liesel
Pumpkin and Carrot Apple Cake