It's summer! And it's too hot in my kitchen for baking… Still, the kids at home, we can all need a treat every now and then. I first made these truffles for Albin to bring to school on the last day. Since school has a no-nuts policy, they are nut free. Since I have a protein-policy (that's a new word :-)) – they contain protein in the form of flax seeds and chia seeds. They are covered in a mix of colorful coconut sprinkles, just for fun! Vegan, raw food, nut free, lactose free, grain free and sugar free. Something for everyone….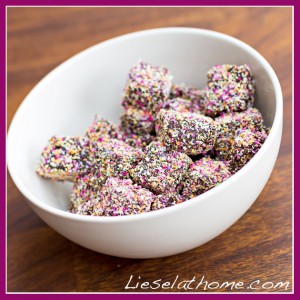 You don't need an oven to make these, but you do need some kind of mixer / chopper / grinder. I bought a new one a few months back after my old one broke. This one is from Phillips, has a 1 liter (2 pints) glass bowl and 500W power. It is meant for chopping vegetables and nuts. It's OK. Not perfect, but works for me.
So, start by grinding flax seeds unless you bought them ground.
4 tbsp. flax seeds (also called linseeds btw)
4 tbsp. shredded coconut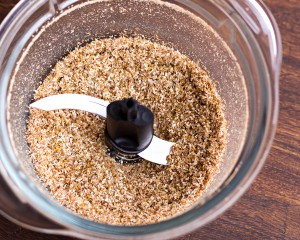 It will then look something like in the picture above. Then, to this add:
250 ml (1 cup) dried fruit. I take half the amount apricots and half amount dates and prefer medjool dates. Raisins works too.
4 tbsp. chia seeds
4 tbsp. cacao powder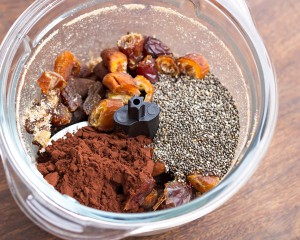 My chopper get's a bit overburdened by this load so first of all I cut the dried fruit into pieces before adding them, and secondly – I run this in two batches. (Only put it all in for the picture). Anyway – chop / grind until it all becomes a crumble.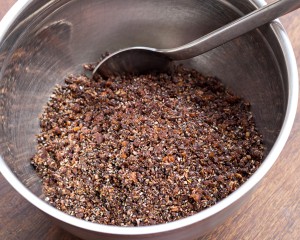 Looking something like this…
To this we need to add some kind of fluid to make a dough. I prefer adding coffee, but if you want to stay clear of caffeine you could add water or rooibos tea.
add 3-4 tbsp. coffee or other fluid
Then mix and form a dough. Place the dough on a piece of parchment paper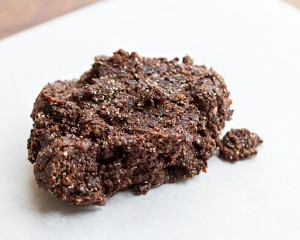 Then using the parchment paper, folding it over from the sides while pressing from above with your hands, form the dough in to a square.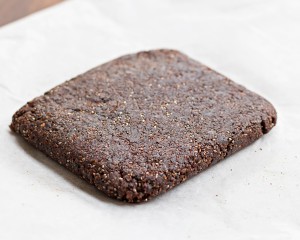 I tend to lift the parchment paper on the sides opposite each other, alternating, folding them over to shape it. You'll figure something out…
Cut the square into smaller squares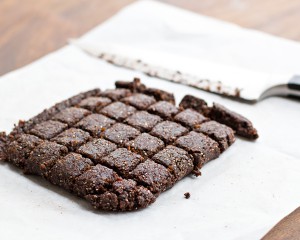 And toss them in shredded coconut. I used a mix of all four colors of the colorful coconut sprinkles I like to make, but plain white works too.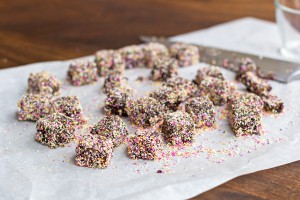 If the coconut doesn't stick – the dough is not moist enough. Then gather it up, add more fluid and press it into that square again. (or just roll little balls with your hands)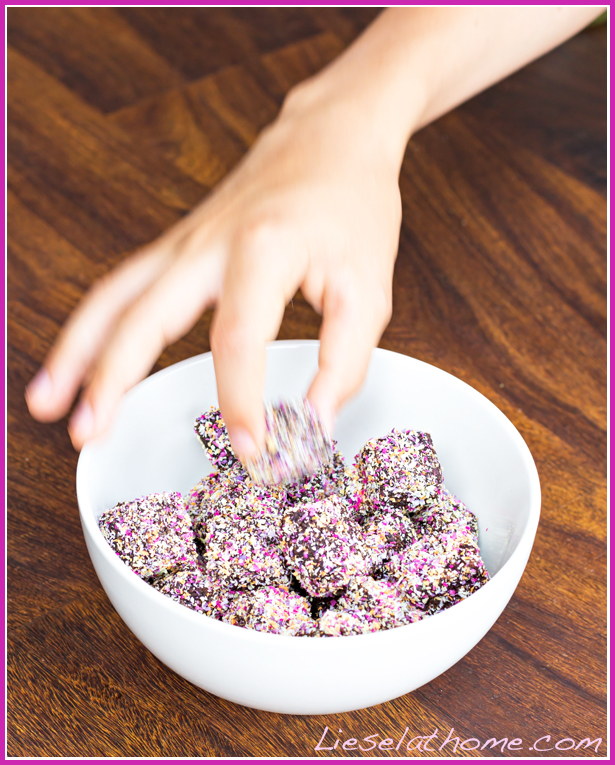 And then….
Enjoy!
Liesel
Colorful square chia seed truffles