Even though I normally try to keep the use of honey and dried fruit to a minimum in my baking – every now and then I just have to break the rules and make something extra special. This amazing, sweet chocolate cake, has quite a few medjool dates in it, making it rather sweet, and kind of sticky / chewy. A real treat for a special day!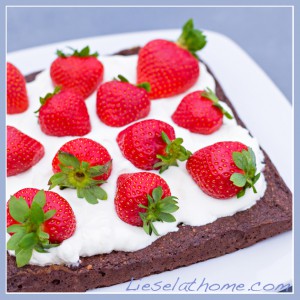 Last Friday was Swedish midsummer. I wrote an article about this old tradition, for CLEW – the online expat magazine – and you can find it HERE. In that post I published a recipe for a fantastic fancy cake with whipped cream and strawberries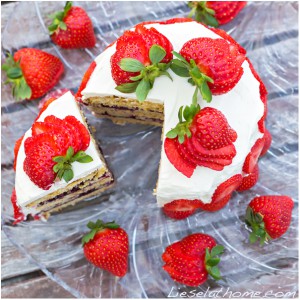 Obviously I baked that one earlier in the week, to be able to photograph it and write about it before the actual midsummer. And obviously – we also ate it already before midsummer.
So last Friday I decided to bake something differently – still keeping true to the Swedish midsummer tradition of whipped cream and strawberries. I made a simple flat chocolate cake, filled with the goodness of medjool dates. You might have seen them in the shop. They are the ones costing about twice of what the normal dried dates cost. But I can tell you they are worth every penny. Their soft caramel sweetness is perfect for this cake. This is how it's done:
Turn the oven on to 180 C (360 F) and prepare a cake form. I used a square form size 20×20 cm (7.9×7.9 inch) and I put parchment paper inside to get he cake out easily in the end.
In a big bowl:
mash one banana
add 4 tbsp. coconut oil
and 2 eggs
Then – and you'll need a grinder /small mixer / chopper for this – grind:
100 ml (0.4 cup) walnuts
and 8 large medjool dates (cut to pieces first, or your grinder might be overwhelmed…)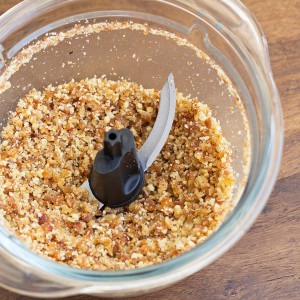 It should look like this when you're done. Possibly you could actually do this by hand with a good knife and a bit of patience?
Empty the walnut-date mix into the bowl with the mashed banana, the eggs and the coconut oil and mix it all.
Now, back to the grinder / small mixer / chopper (Or the chopping board and knife) and mix the following:
100 ml (0.4 cup) hazelnuts – measured whole
50 ml (3 tbsp.) linseeds – also called flaxseeds
Grind them until they are a fine powder. These two ingredients can actually be bought ground in case you don't have that grinder. If you buy ground hazelnut – use an extra tbsp. of it for the recipe.
To the ground hazelnut and linseeds – add:
2 tbsp. cacao powder
a pinch of salt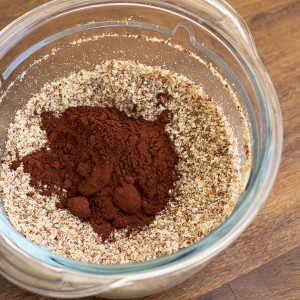 Stir, and then add also this to the big bowl of banana, egg and coconut oil.
Mix all well and fill your form.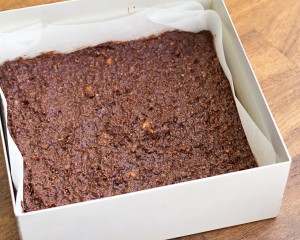 This is supposed to be a flat cake. Also you might have noticed we used no baking powder so it will not raise. Spread it out evenly in the form and bake in the middle of the oven for 25 minutes. Let it cool down completely before topping with whipped cream, and possibly strawberries or other fresh berries.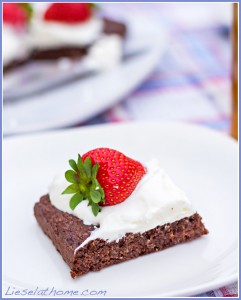 We all loved it so much that I actually baked it again last Sunday (only two days later). We had no strawberries left over so I cut the cake into 16 small pieces, added a spoon of whipped cream to each piece, sprinkled a little of the colorful coconut sprinkles I wrote about not to long ago and topped each of them with a small pair of mint leaves.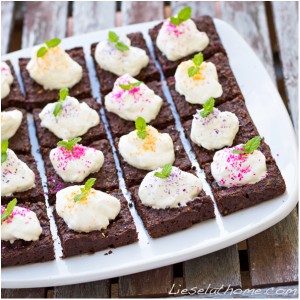 Fancy enough I think – and it got me thinking that this cake could work as a party buffet cake. It is solid enough to grab with the hand – without needing any plates and forks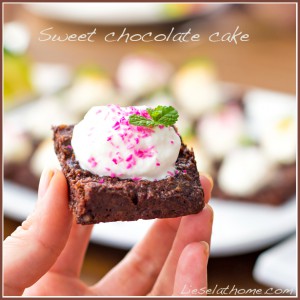 Only problem – it is so delicious that you can't stop at one piece… 🙂
Enjoy!
Liesel
16 pieces of sweet chocolate cake