Do you ever wake up and feel the need for some luxury? Now, what helps better then chocolate? These Luxurious Chocolate Muffins make a great breakfast, snack or dessert and brings sunshine into a grey day!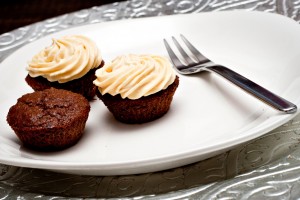 Start with the dry ingredients
200 ml (0.8 cup) shredded coconut – grind in a mixer / grinder together with:
5 pitted dried dates
Then, to this add
200 ml (0.8 cup) almond flour – which is ground blanched almonds
2 tbsp's coconut flour
2 tbsp's cacao
2 teaspoons baking powder
a pinch of salt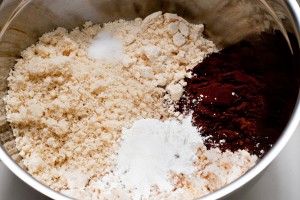 Mix together and put to side
Luxurious muffins need good chocolate so chop 40 g (1.4 ounce) dark quality chocolate – I used Lindt 70% this time. Love that one! I know you'll want to eat a few of the pieces – go ahead! Just save some for the baking as well…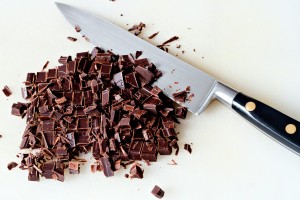 Time to turn on the oven – 180 C (350 F)
In a separate bowl:
Mash one banana
Add 4 eggs
1 tbsp honey
1 tbsp vinegar
And mix with an electrical whisk
Melt 75 g (2 ½ ounce) butter and add to the eggs
Also add 2 tbsp's red wine. This gives a great taste! Red wine cake is common in Germany – probably never heard of in Sweden though, since they normally rather drink the alcohol they buy… 🙂
Now, if you don't want to use alcohol you could take the same amount of coconut milk (or cream) instead. I'm cool with that!
Then add the dry ingredients and keep mixing with the electrical whisk. Last but not least – throw the chopped chocolate in there. And give it one last stir!
Fill your muffin forms. I have used silicon muffin forms for years now and totally prefer them to paper ones or the muffin trays. But use what you are used to, and have available.
Bake in the middle part of the oven for 18-20 minutes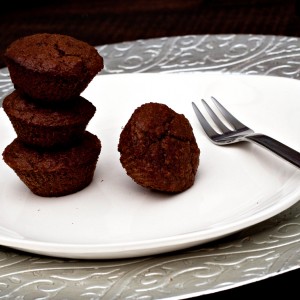 Enjoy the total luxury of these muffins warm or cold. If you feel like you could add a cupcake topping once they've cooled down. I made a spontaneous mix of mascarpone, apple and mango puree and a few drops of honey – and it was a perfect match.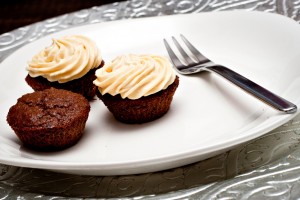 Enjoy!
Liesel
Luxurious Chocolate Muffins