These days many of us are busy decorating our homes. December almost here, beautiful Christmas markets opening up everywhere – at least here in Europe – and radio stations starts playing "last Christmas" again. I thought today, we could bake something that is easy enough, and has a crunchy Christmassy feeling to it.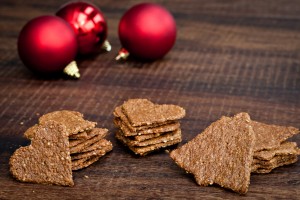 Or – have the kids make it – it's that easy!
Combine in a bowl:
100 ml (0.4 cup) sunflower seeds – grinded to a fine powder in a grinder/mixer
100 ml (0.4 cup) sesame seeds – also grinded to a powder
2 teaspoons Christmas spice – recipe here, or just use cinnamon if you want it easy
¼ teaspoon salt
1 tbsp nut oil – I use walnut oil
2 tbsp's honey
1-2 tbsp's tap water
Really just mix with a spoon until you have a sticky dough.
Use two baking sheets and put the dough in between. Roll with a rolling pin or a glass bottle as thin as you can (more or less – you know, reasonable thin…)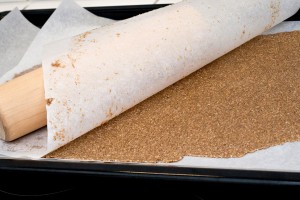 Then – easy solution – cut with a pizza slicer (or knife) into squares.
Or – fun solution – use cookie cutters and make individual hearts, stars, bells or whatever. DON'T move them though – just leave them on the baking sheet and leave the "leftovers" around. You can break that off when they are done in the oven.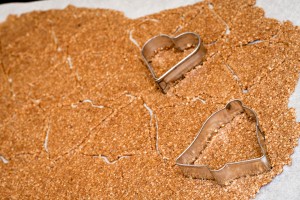 Put the baking tray in the lower part of a cold oven and turn it on to 130 C (270 F) and set a timer for 25 minutes. When time is up, turn oven off and leave the oven door slightly open (put a wooden spoon or a folded towel in the gap). Take out when cooled down – and crack apart.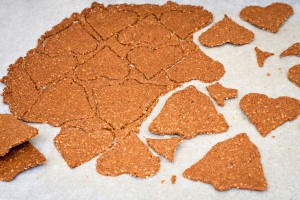 Store in an tin to keep them crunchy… If you weren't planning on munching them all down in one go…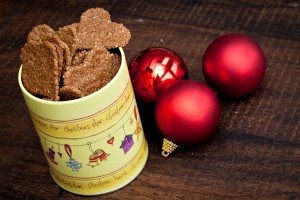 Enjoy!
Liesel
Crunchy Christmas Crackers