Feed up with Christmas shopping? Having cravings and feel like a treat? If you have butter, flaxseeds, shredded coconut, raisins, cacao and possibly vanilla at home – then, here's a quick and easy recipe for chocolate sweets that requires no (oven) baking. And… – here's a picture of my favorite food pyramid 🙂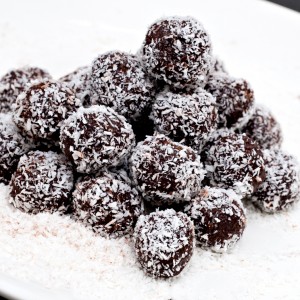 This is actually an adaption from a very common Swedish recipe, only the original recipe calls for oat flakes and sugar (which we now substitute for flaxseeds, shredded coconut and raisins). If you're Swedish – this might all sound vaguely familiar…
Put 50 gram (1.8 ounce) butter – room tempered is easiest to work with – in a big bowl.
Then in a small mixer or grinder, grind the following:
100 ml (0.4 cup) shredded coconut
100 ml (0.4 cup) flaxseeds (also called linseeds)
100 ml (0.4 cup) raisins
Add that to the butter, and also add:
3 tbsp's cacao powder
½ teaspoon vanilla powder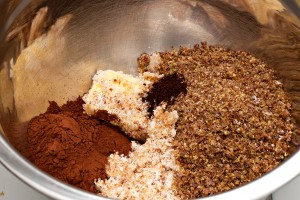 With an electrical whisk – just work those ingredients together to an even dough. This will take a few minutes. You can also mix this with a fork or with your hands – which is what we did as kids – The electrical whisk is so much easier though.
Then, now using your hands, form little balls with the dough. Roll those little balls in some shredded coconut or cacao powder, and place in the fridge.
Enjoy!
Liesel
Chocolate treats in the food pyramid