You'd think I would be kind of fool proof at making cakes by now, and that someone like me would be able to produce the most amazing birthday cake for myself. Well, today is my birthday (happy 40th to myself!! :-)) and I had planned this cake to be truly awesome. But read on to see how it instead turned out to be quite a cake-tastrophe. Still – it tasted great and we had a really good laugh about it – especially because of a gift my sister sent….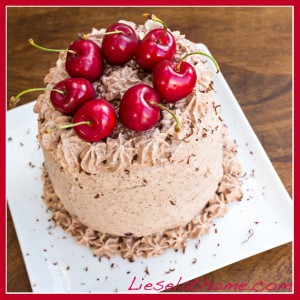 We'll start by making the cake so turn on your oven to 160 C (320 F) and prepare a baking form. I have a really cute tiny round form that is only 14 cm (5.5 inches) wide. Measure that with your hands – and you'll realize it is very small! Still I love this size because it is perfect when making a cake for just the four of us in my family. If you have a bigger form you might want to double all the amounts…
The wet ingredients – get a bowl out and mix:
1 banana – mash it
1 tbsp. vinegar (i used raspberry vinegar – that's why it is pink…)
4 tbsp. coconut oil – OR the same amount butter (50 g)
4 eggs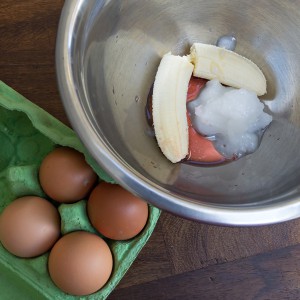 The dry ingredients – in a grinder or mixer – grind the following:
100 ml (0.4 cup) shredded coconut
100 ml (0.4 cup) hazelnuts
3-4 pitted dates (I spoiled myself with the pricier medjool dates – but normal ones are ok too!)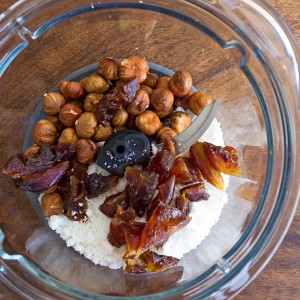 (If you don't have a mixer/grinder – just buy ground hazelnuts and take 150 ml (0.6 cup) of those plus 100 ml (0.4 cup) shredded coconut and instead of the dates – add 2 tbsp. honey to the wet ingredients.)
Now – grind the ingredients above until the dates are crumbly and then add
2 tbsp. coconut flour
2 teaspoons baking powder
2-3 tbsp. cacao powder ( I had 3 but it was almost too intense so 2 tbsp. would be enough) Cacao powder is not in the picture…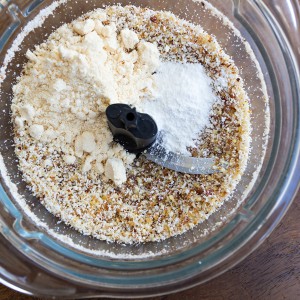 Mix with a spoon then add the dry ingredients to the wet and stir until all is blended. Fill your cake for.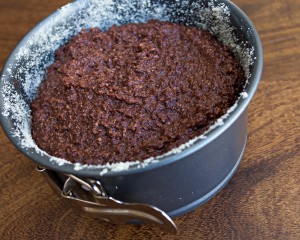 Bake in the lower part of the oven for 40 minutes. Another cake form size might need more – or less – time.
Let the cake cool down before cutting into layers. I baked the cake the evening before and filled it next morning. I also prepared the whipped chocolate cream last night, by slowly melting 50 g (1.8 oz.) dark chocolate in 350 ml full fat cream. This then needs to cool down in the fridge for a few hours or as in my case over night before you whip it.
So, this morning I woke up and made the fancy cake. Slicing the cake in 4 slices and filling with sliced banana and halved cherries plus the whipped chocolate cream. And this is when things went wrong!!! 🙂

You see, I realized afterwards that placing halved cherries on slippery banana slices just does not work. They slide…. Next time I will either mash the bananas+cherries – or chop both into smaller pieces and mix them before spreading. So see the three piece picture above as a "how-to-NOT-make-a-cake" 🙂
Spread whipped chocolate cream over the whole cake, grated some dark chocolate and placed a few cherries on the top. Everything looked quite nice so far!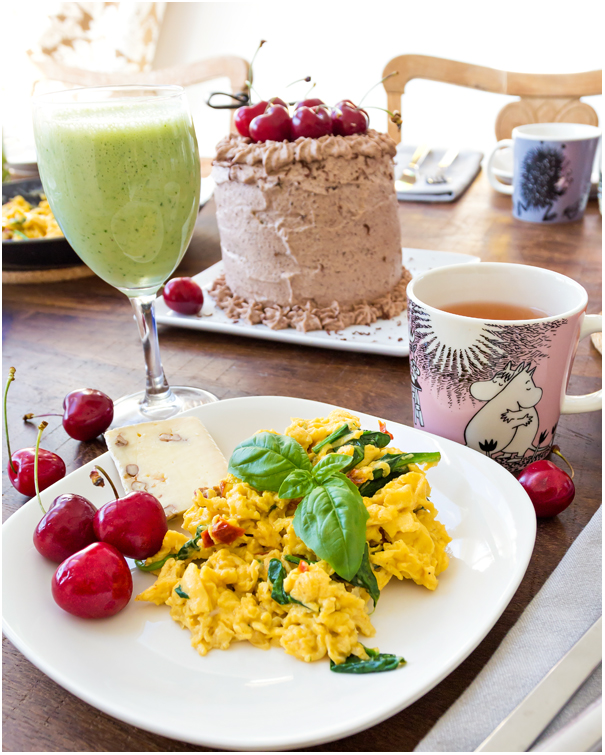 I made my favorite breakfast. Scrambled eggs with spinach leaves and dried tomatoes. To this a slice of the most heavenly brie with walnuts inside, my favorite tea all the way from Denmark and a green smoothie (banana, spinach, orange and kefir). And the cake looking great in the background!
And then everything turned hilarious!! My sister sent me a "Mumin cup" (pictured below) with Mama Mumin making a cake. The gift a card saying "To a woman who has everything and who can do anything…." 🙂 Yes… until I cut the cake and it so totally fell into pieces – bananas and cherries sliding off each other! 🙂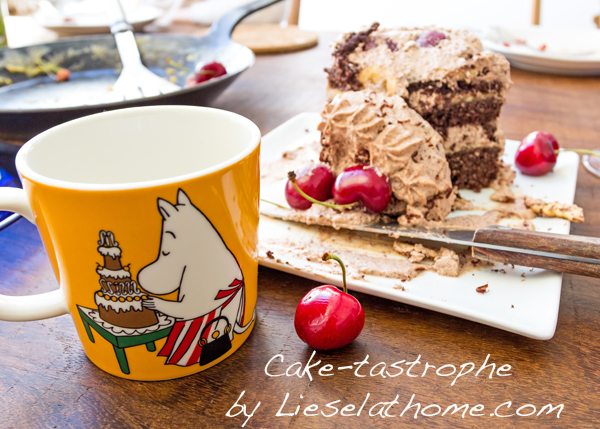 We call it the cake-tastrophy! 🙂
So there you go – Liesel is human! And Lisa – the person behind this blog – just turned 40! If you want to send some birthday love my way – head over to amazon and buy my book!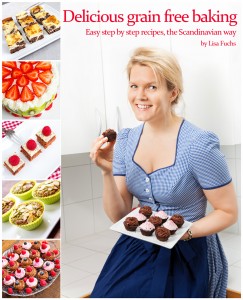 You'll get a book filled with fool proof – tried and tested successfully several times 🙂 – recipes for cakes, muffins, cupcakes and cookies. All grain free – all delicious! A few teasers in the picture below…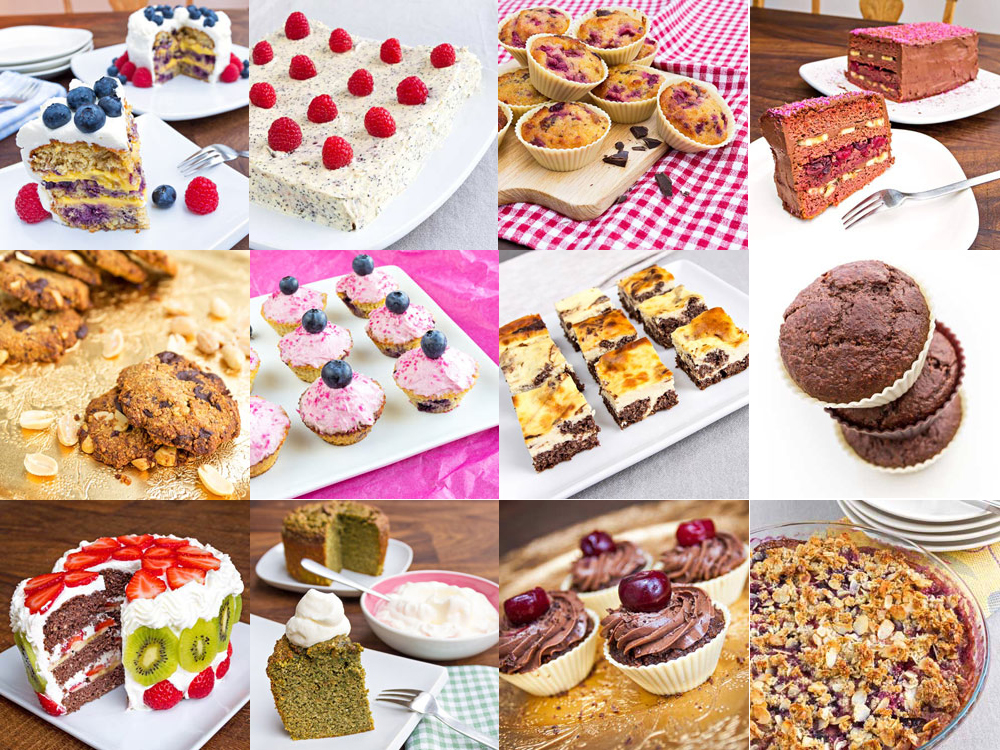 Have a great day everyone!
Liesel
My birthday – and a cake-tastrophe