Sure – we know the two ingredients banana pancake recipe, don't we? And I've tried it, but always felt it was missing something. It wasn't until recently when I visited my sister and she made them for me that I had the true wow-feeling. THIS is what they should taste like! And the simple thing she did was to add a pinch of salt, a dash of vanilla and fry them in plenty of coconut oil. On Monday it's my sisters birthday – Happy birthday sis! I love you! Here are your pancakes with a fried apple, nuts and raisins topping!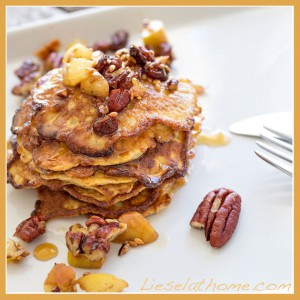 So the pancakes themselves are really easy to make. For one big or two smaller portions you'll need:
I banana – mash it
3 eggs
a pinch of salt
and a good dash of real vanilla powder
Mix and beat with a fork. Banana lumps are totally ok. Heat up a pan and add plenty of coconut oil. Then scoop pancake batch into the pan to fry first on one side, then turning to finish the other side. The batch makes about 6 large pancakes or something like 20 smaller ones.
You can serve the pancakes with fresh fruit, berries, nut spread and/or maple sirup – or you can make the fried apple topping as in the pictures:
1 tbsp coconut oil
1/4 apple cut in pieces
a handful of nuts – chopped
a small handful of raisins
optionally – some seeds, like flax seeds
a pinch of salt
a dash of vanilla or connamon
Fry all the above in a pan for 2-3 minutes and at the very end add a little honey or maple sirup. Stir and top the pancakes.
And voila – your delicious breakfast is ready!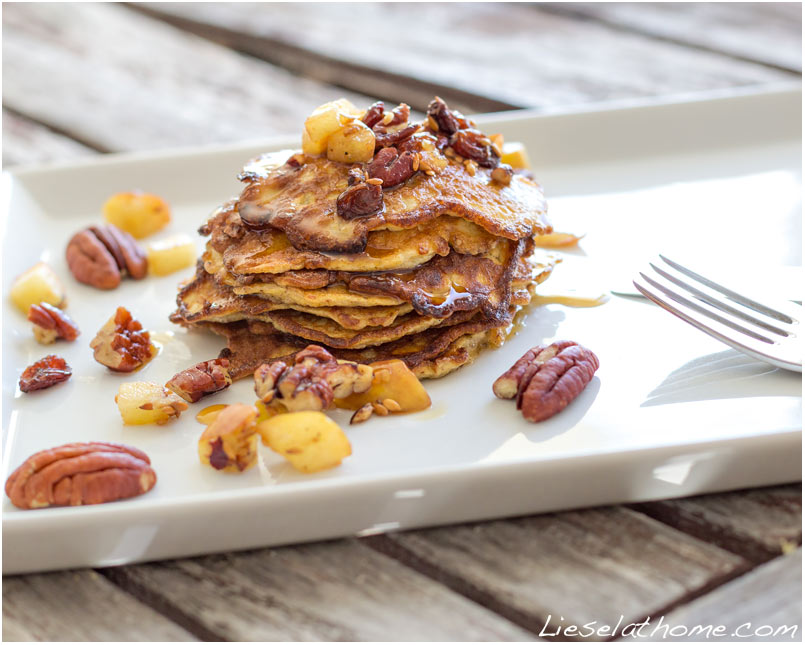 Enjoy!
Liesel
My sisters vanilla pancakes