A favorite thing of mine when it comes to autumn is pumpkin. Not carving lanterns – but cooking and baking with them. Because it's Friday – I decided to surprise my daughter with a pumpkin-apple cake for lunch. This is how I did this one: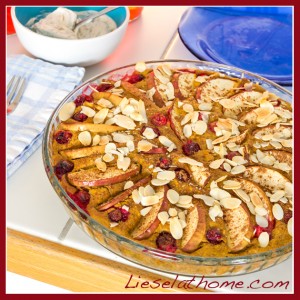 Most times it starts like this: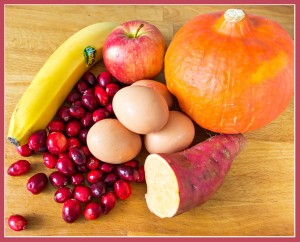 I look pick eggs, vegetable and fruit that I feel will work well together. This could just as well be carrots (if pumpkins are not in season) and it could have been raspberries instead of cranberries if I wanted less "ting" and more "aaahhhh".
Then prepare the vegetables. Peel potato and pumpkin and cut into pieces. I had
1/2 sweet potato
1/4 of that pumpkin on the picture
Boil in salted water until soft – about 15 minutes
In the meantime get a bowl out and:
mash one banana
crack 4 eggs
add 50 ml (3 tbsp.'s) coconut flour
possibly 1/2 tbsp. cinnamon
and possibly 1 teaspoon cardamon
and optionally a handful of walnuts – slightly chopped
Mix together – I use an electrical whisk.
Once the pumpkin and sweet potato are done – add about 50 g (1.8 ounce) butter. Mash – just using a fork will do.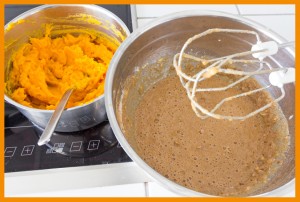 Then add the mash to the bowl and mix it all together.
Filling the form – I did a picture to show how it's done:
I think that speaks for itself – but basically – butter the form, add the cake batch, stick apple slices into the batch, add some cranberries, sprinkle cinnamon, and lastly sprinkle almond slices.
Bake for 30-35 minutes in the middle of the oven.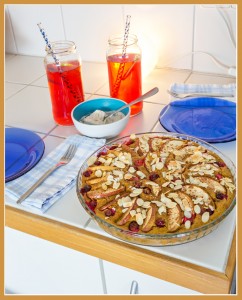 We ate it sitting in the kitchen – my daughter loves it when I set up our lunch at different spots around the house. We've even eaten on the floor a few times – picnic style on a big blanket. Bar stools in the kitchen at the counter was nice.
The bowl is mascarpone with vanilla and honey – lovely to the cake, and the glasses have ice tea in them.
Enjoy,
Liesel
Pumpkin, apple and cranberry cake