There I was, wondering how to eat more ginger. It's supposed to be very healthy – but what do you really do with it? Bake? Why not! To balance the strong taste of the freshly grated ginger I used raspberries and the combination turned out to be absolutely amazing! This is a treat!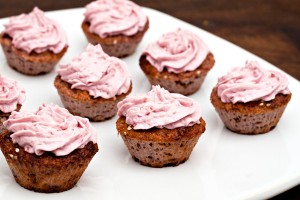 We'll start with the muffin base. In a bowl:
1 banana, mash it.
200 ml (0.8 cup) (100g) raspberries – quickly mix to crumble while still frozen and add to banana mash
Add 4 eggs
1 tbsp honey
and 1 tbsp vinegar
Then take about 100g (3.5 ounce) fresh ginger, peel and grate it – and you'll end up with something like maybe 40 g (1.4 ounce) juicy grated ginger. Add this to the banana, raspberry and egg mix.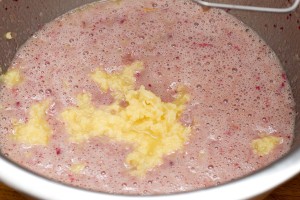 OK, oven. Let's not forget the oven. Turn on – 180 C (350 F)
The dry ingredients we'll mix in a small bowl or measuring cup.
100 ml (0.4 cup) shredded coconut – grind first in a mixer / grinder
100 ml (0.4 cup) almond flour – which is ground blanched almonds
3 tbsp's coconut flour
2 teaspoons baking powder
½ teaspoon cardamom
mix with a spoon
Now actually I had planned to add butter and make just plain muffins, but for some reason I forgot the butter… Only realized this once they were in the oven, but hey – that saved the day because then I had to make cupcakes instead and – wow – no regrets!
So, just add the dry ingredients to the wet and once mixed start scooping into your muffin forms. I highly recommend using silicon forms and in this case, the lovely bite sized mini forms.
Then place in the middle of the oven for 18-20 minutes.
I actually sprinkled some sesame seeds before baking them since I was still planning on making plain muffins…. No need to do this…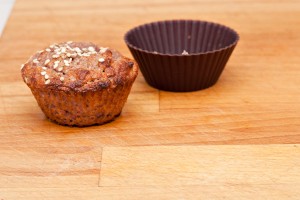 Anyway! Once baked and cooled down, take them out of their forms. Then make the cupcake topping. Get some more raspberries. A handful or two, put in a bowl and thaw (microwave is quick!), and then mash them.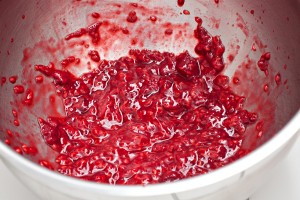 With an electrical whisk, mix your mashed raspberries with 250 g (8.8 ounce) mascarpone and one tbsp honey. Mix until even.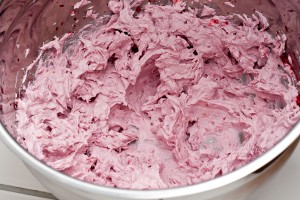 With the help of an icing bag (or a freezer bag with one cut open corner) spread from out to in, in a slow move, on your muffins.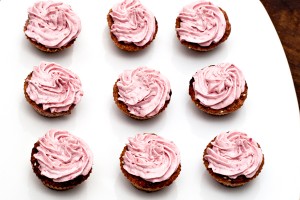 If you feel crafty you could top this off with a whole or a half red grape. (For this idea I'd have to thank my creative daughter Elin who grabbed a cupcake and got the grapes out of the fridge and just placed one on the cupcake as if it was meant to be!)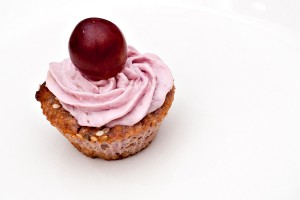 Enjoy
Liesel
Raspberry and Ginger Cupcakes – a taste explosion!