A favorite dish of mine in the winter season is the red cabbage, so common in Sweden and Germany. You'd normally use a fair bit of sugar when you make it so I have avoided it up until yesterday when I thought there has to be a way around this. And voila – there is!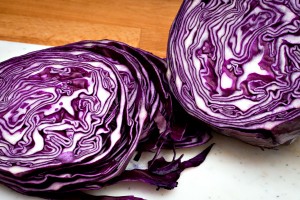 This great colorful side dish has a lot of taste going on, and you can keep it in the fridge for several days – the taste will only get better!
Start by thinly slicing about half a head of red cabbage and place in a large pot (with a bit of coconut oil or butter)
Chop one small red onion and one apple and add that to the pot.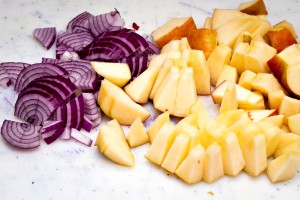 If you have at home, you can also add some cranberries – but this is not at all necessary – and is not part of the dish traditionally. I just happened to have some left over and added them as not to waste them.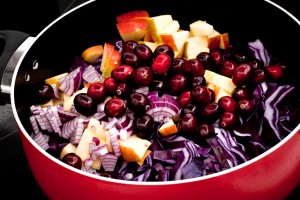 Now fry this for about 5 minutes, while stirring – this is when it comes in handy that you use a large pot. Otherwise it'll be difficult to stir.
Then add
1 tbsp vinegar
100 ml (0.4 cup) apple juice
5 whole cloves
5 whole allspice ("kryddpeppar" if you are Swedish)
To avoid ending up chewing on a piece of cloves or allspice, you can put those together in a tea ball – and take that out before you serve.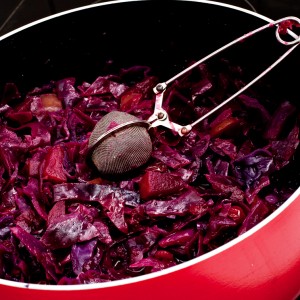 Let it simmer – with the lid on – over low heat for, kind of, a long time. My original recipe says 30 minutes but mine was never done in that time. I'd rather say about 1 hour to 1 1/2 hours. Stir every now and then and check that the cabbage covers the tea ball.
Add salt to taste (I use about 1/2 tbsp), and also maybe some more vinegar. In the original recipe you'd also add sugar here, and if you miss that sweet taste, you could maybe add some honey or other sugar replacement. I drizzled a little honey over ours – less then ½ teaspoon, and for us – that was enough.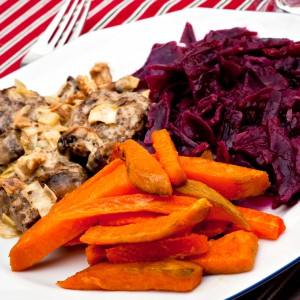 We had the red cabbage for dinner last night together with meatballs, sweet potato fries, and a mushroom sauce. And again for breakfast with scrambled eggs and bacon. Both combinations absolutely delicious!
Enjoy!
Liesel
Red cabbage – the Swedish way