Once at school I actually learned something useful. Yes – seriously! I learned how to make a fantastic apple pie. Now – that's a skill I've used more often then being able to name all the rivers in Japan! The trick to this pie was to grate half of the apples and soak them in orange juice. Yum! So I had that in mind when making these apple mini muffins that by accident turned into cupcakes!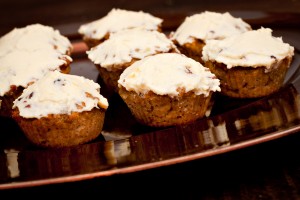 OK let's try and do things in the right order today! So start by turning on the oven – to 180C (350 F).
You'll need
1 banana
3 eggs
1 tbsp vinegar
1 tbsp honey
200 ml (0.8 cup) sunflower seeds
100 ml (0.4 cup) almond flour
3 tbsp's coconut flour
2 teaspoons baking powder
1 teaspoon vanilla powder
2 apples
1 organic orange
And as it turned out – you'll also need
75 g butter
75 g philadelphia cream cheese
1 tbsp honey
1 tbsp juice from that orange above
Anyway – let's just get started!
In a big bowl
Mash the banana
Add 3 eggs
1 tbsp vinegar (yes, vinegar – it helps the baking powder to rise)
1 tbsp honey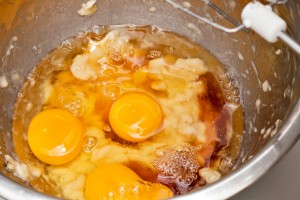 and mix with an electrical whisk
In a small bowl (or measuring mug like I used) mix the following
200 ml (0.8 cup) sunflower seeds – that you first please grind to powder
100 ml (0.4 cup) almond flour – which is ground blanched almonds
3 tbsp's coconut flour
2 teaspoons baking powder
and 1 teaspoon vanilla powder (or you know – inside of one vanilla bean if you prefer)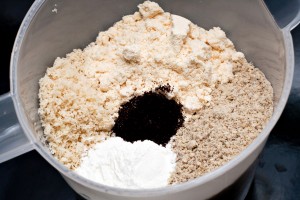 Then grate 2 apples – peel them first if you want to, I didn't since I was to lazy… no other reason.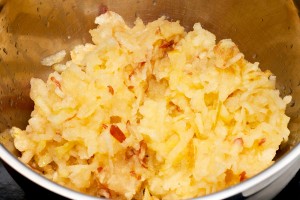 Also grate the peel of one organic orange (into the eggs or just over the grated apples). And press the juice out of it. I used only ¾ of the juice since the orange was huge…
Now mix the dry ingredients, the grated apples and most of the orange juice into the eggs and give it a good whisk with the electrical whisk.
Then fill your muffin forms. I use, as always, silicon forms. They are non-stick and reusable and easy to clean. But just use what you like and have available. This recipe makes about 36 mini muffins.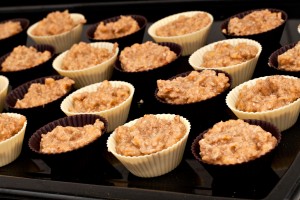 Bake in the middle part of the oven for 20 minutes.
And as I turn back from putting them into the oven – I realize I forgot to add the butter that was lying on the counter… Yes, that happens frequently to me.
Anyway – after 20 minutes they were done, and I tried one. Hmm… as expected, a little tasteless kind of. You know fat really does good to baked stuff. It's either that or sugar – and since I stay away from sugar… I'm sticking to fat.
So solution was – make a cupcake topping using that fat! Mix 75 gram (2.6 ounce) butter with 75 gram (2.6 ounce) Philadelphia cream cheese – add some of that freshly squeezed orange juice and a tbsp of honey. Mix with electrical whisk until smooth and top the muffins (once cooled down!) using a knife.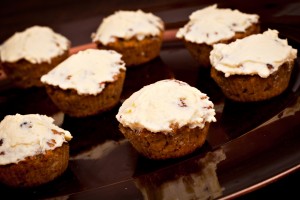 Ta-Da ! And you know what? They now taste lovely! As if it was meant to be! 🙂 So – learning from mistakes – that's my kind of school!
Enjoy!
Liesel
Grated apple muffins mistake, becomes – Great Cupcakes!