Since months, she has been talking about this birthday and since weeks she has planned what cake she wanted to have. It has changed every now and then, but in the end she settled for chocolate and strawberry cake. Wish granted!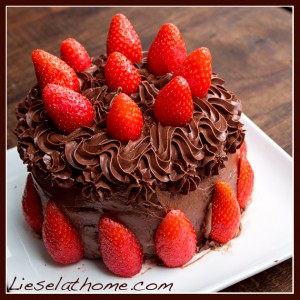 As I've mentioned before in other posts I love my tiny cake form, just 14 cm (5.5 inch) wide. Perfect for mini creations! So, following the recipe for the base of the fancy cake I posted a while back (but using ground linseeds instead of almond flour) I baked the base for this one.
The cake filling was a mix of strawberries, banana and mascarpone – all mashed and mixed together. I cut the cake into three layers – so there were 2 filling layers inbetween…
The topping is my favorite right now. I used it for the cupcakes I posted about a few days back. Remember?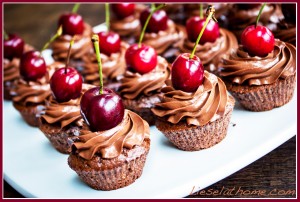 Simply melt 100 g really dark great quality chocolate, add a big spoon of mascarpone (about 100 ml – 0.4 cup), and half of that amount of natural yoghurt. Stir until completely mixed, and then spread on your cake. (Or top your cupcakes!)
In the end I also used an icing bag to decorate the top of the cake with the chocolate mix – and finally, I placed a few strawberries on it. Quick and easy!
She was over the moon! (And she has two paparazzi parents, so with two big lenses in her face she also couldn't stop giggling…)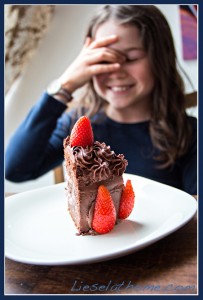 Keep your eyes open for part 3 of the birthday adventures – it isn't over yet!!! 🙂
Enjoy,
Liesel