As so many things in life, adding zucchini to the minced meat when making meatflats was just one of those spontaneous ideas I had that turned out much better then I had expected. They add the right amount of moist to make the perfect texture, and I guess that if you have kids who don't like to eat veggies (luckily mine love pretty much any veggie I put on the table) this could be a great way to sneak them in…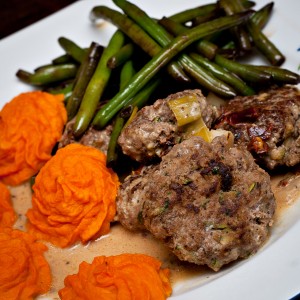 First of all, let's sort one thing – why meat"flats"? In Sweden we are all for meatballs, and they are one of my favorite food – but it's just not very convenient to make them… If they are big they might get dry on the outside and still not be done on the inside and if they are small it takes forever to roll them! So I simply make them flat. Quicker to form and quicker to fry!
Now, moving on to the "how to"!
I won't give you a set recipe here, but rather give some hints. I'm sure you already have your favorite way of making minced meat patties, meatballs, burgers – or whatever you call them.
The thing here is to start by grating a zucchini. (I don't peel it – I just wash it and grate it.)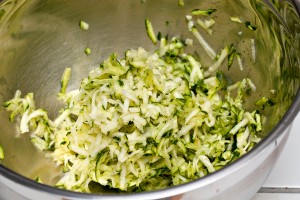 Add an egg, a spoon or two of almond flour (optional) and spices. Garlic is great of course, and normally I'll add chili powder, oregano, basil, lemon pepper, paprika powder and salt. And the minced meat of course! We prefer beef – but go with what you like.
A good-sized batch for us – a family of 4 – is 700 g (1.5 lb) minced meat.
Work everything together with your hands and form balls, flats or whatever your creative mind comes up with.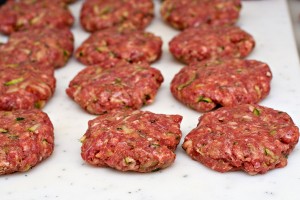 Fry on medium heat for a few minutes on each side, and don't overfill the pan – just fry a few at a time. In the end I like to add some chopped leek (and mushrooms if I have) to the last batch.
Then, putting all the meatflats back in the pan, I pour some coconut milk over it all, sprinkle some chopped sundried tomatoes and add a good bit of tomato puree.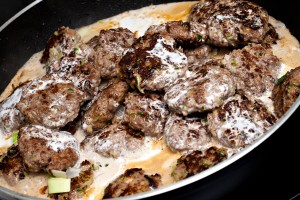 Let simmer for a few more minutes and we're done! On the picture at the top – served with carrot heaps and green beans. The green beans I boil for 4 minutes, drain water, add olive oil, dark balsamico vinegar and salt – so easy, and totally yummy!
Enjoy!
Liesel
Zucchini meatflats (the flat version of meatballs)