In the summer it feels easy to make a fresh salad, just throwing together a bunch of fresh vegetables straight from the farmers market – or garden if you are lucky. At winter, in the dark and cold days, when we really could use a bit of extra vitamins – it tends to be more difficult. There is not as much fresh produce available and somehow it's also not as tempting, at least at first…
I put together a few easy salads based on kale that will get your taste buds going. It's thought as an inspiration so feel free to mix and match as you go!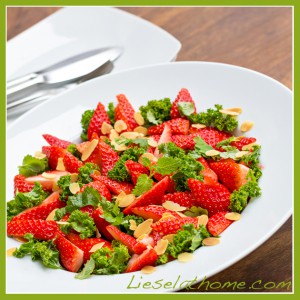 Kale is a great winter vegetable. It's beautiful, healthy and it stays fresh for quite a long time if stored cold. Previously I had only eaten kale warm, thawed from frozen cubes of pre-chopped pieces. If you mix it with creme fraiche and herbs if is actually a lovely side dish. But this year I started buying kale fresh from the weekly market, searched online for recipes to try, and then started experimenting.
Mainly I have found that since kale itself doesn't have much taste, it needs something to liven things up a bit. As a rule I mix kale with:
a juicy fruit or berries – for color and freshness,
optionally some dried fruit or berries – for chewiness and sweetness,
and nuts and or seeds – for crunch
Then I normally make a dressing, but not necessarily.
Here are a few examples of kale salads I have posted on Lieselathome.com's Facebook page this last month:
Kale and strawberries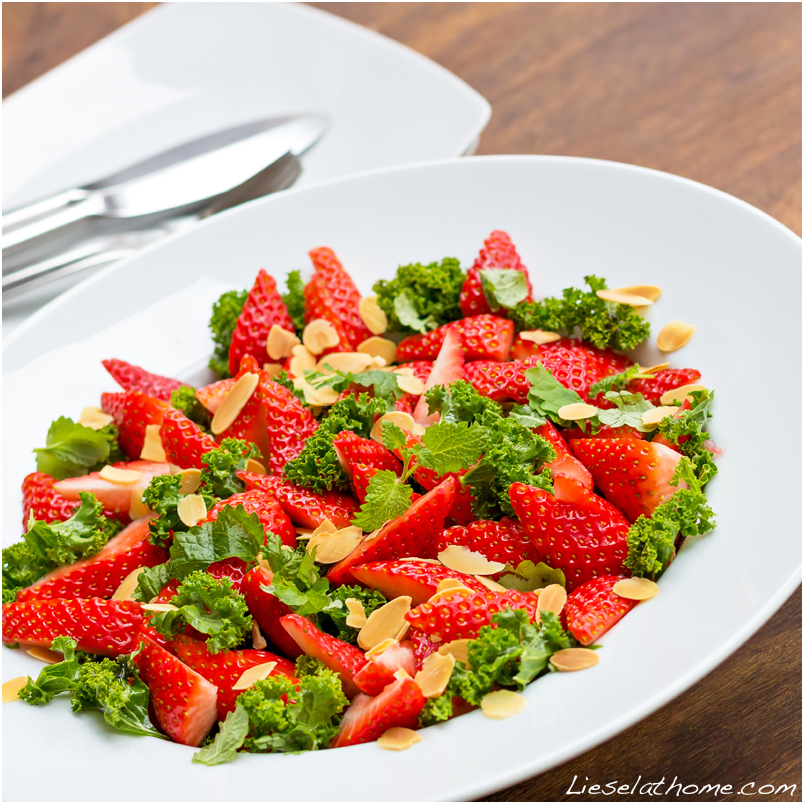 This one has a hint of summer to it! I absolutely love it and have made it several times these last weeks.
It's Kale, strawberries, lemon balm (a herb – called Zitronenmelisse in German) and roasted almond slices. I then added a dressing of equal parts
olive oil
tahini
and tamarind paste
plus a dash of vinegar (or lemon juice) and salt.
You can also use balsamic vinegar instead of the tamarind paste (and then of course not add the extra vinegar dash) and tahini (which is a sesame paste) can be replaced with a nut butter.
Kale and blueberries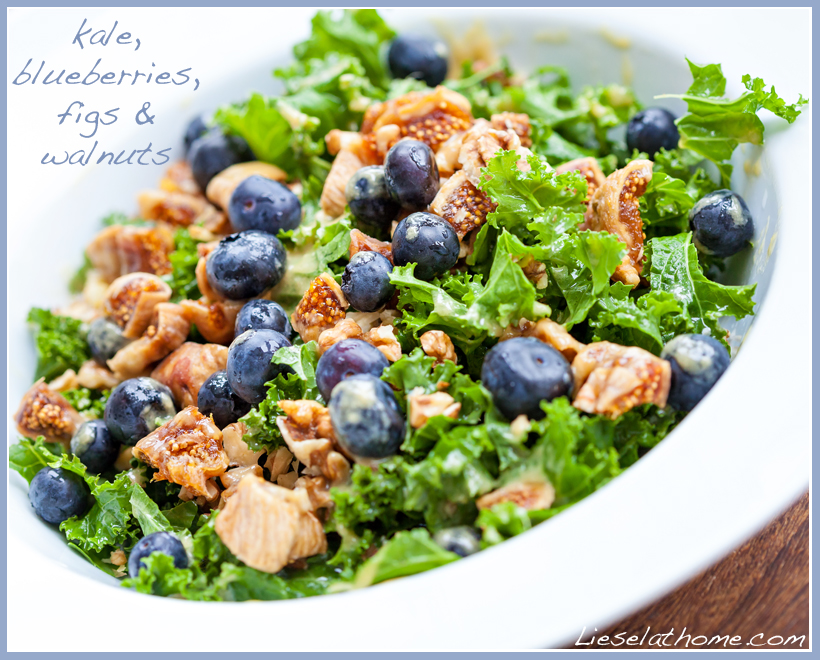 This is kale, blueberries, figs and walnuts. It looks like a lot of figs but it is actually just three dried figs cut to pieces.
For that one I had a dressing of
1 part olive oil
1 part peanut butter (100% pure with nothing added)
1/2 part vinegar
dash of salt
The peanut butter can of course be replaced with other nut butters.
Kale, orange and blueberry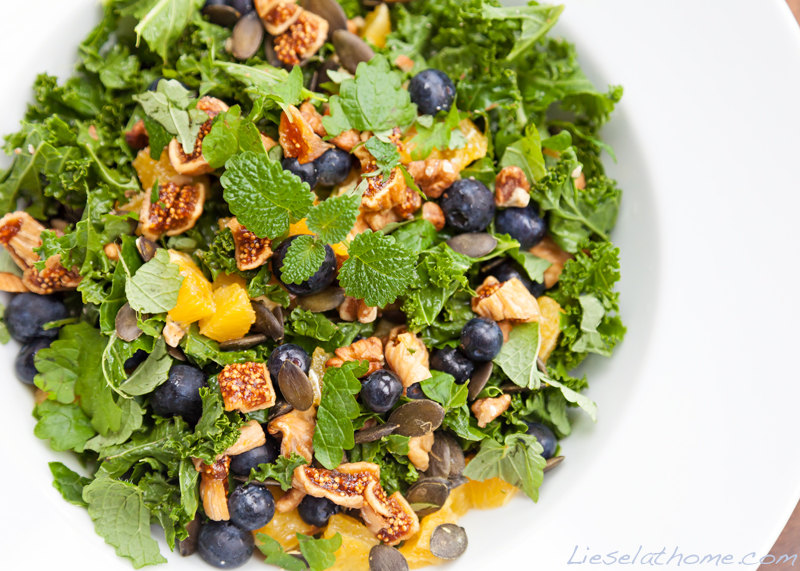 This is just a variation of the one above. I added on fresh orange and lemon balm. Sprinkled a few pumpkin seeds over, and ate it without any dressing. Perfect! The juicy orange combined with the sweet figs and the fresh lemon balm made this salad one of the few ones I like better without dressing!
Kale, orange and walnuts – works with papaya too!!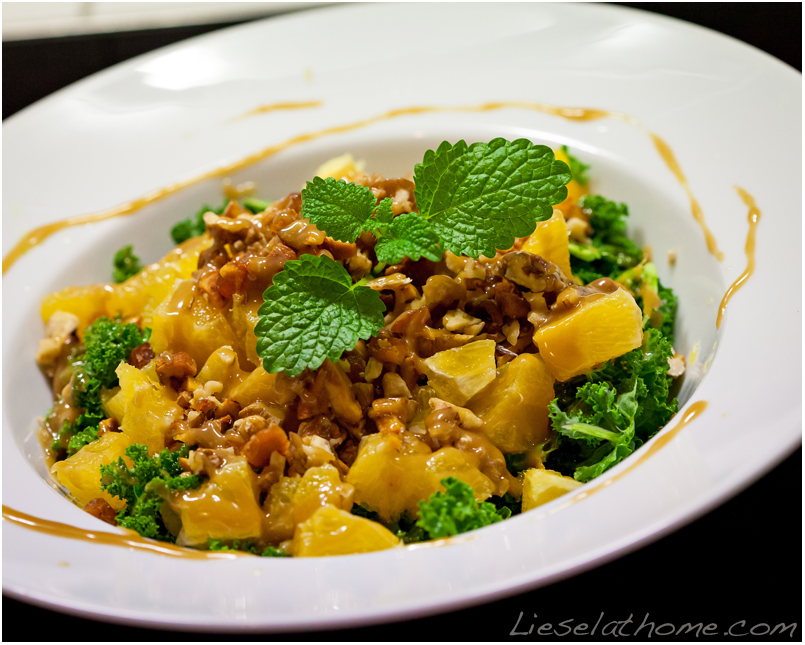 This is kale with fresh orange and walnuts. I have made the same with papaya instead of orange and that is amazing too!
The dressing is
2 parts olive oil
2 parts peanut butter (the 100% pure one)
1 part balsamic vinegar
and a pinch of salt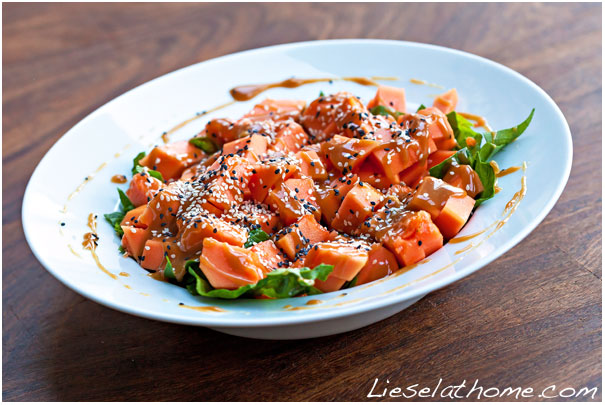 This is similar to the papaya version – but with spinach instead of kale. Spinach of course works for all the salads above… And this one is sprinkled with sesame seeds instead of walnuts…
Edited January 2015: Adding this one to the list as it has become another favorite of mine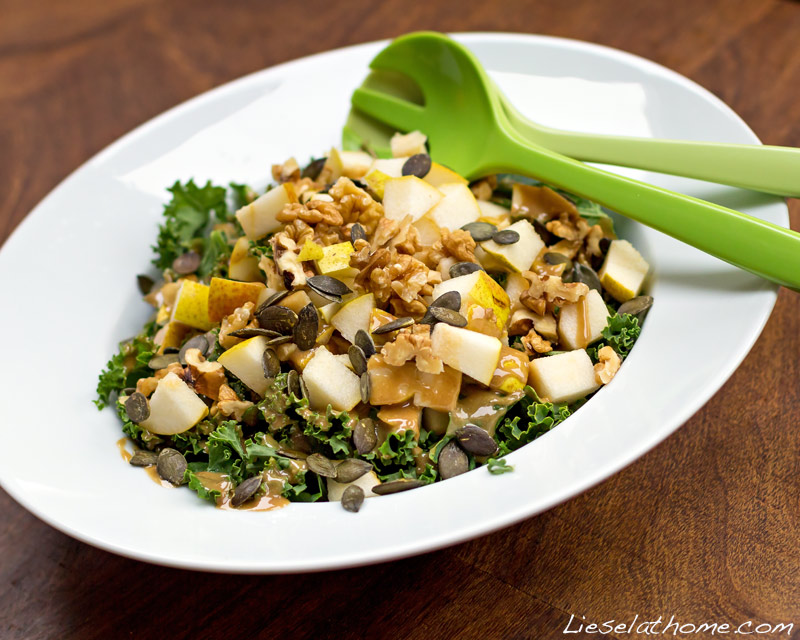 Kale, pears, walnuts and pumpkin seeds. Dressing is: tahini, olive oil, balsamic vinegar and salt.
OK – that's it! Try your own versions and you'll soon be hooked! I tend to eat at least one kale salad a day… Delicious and provides you with a good doze of healthy stuff!
Enjoy!
Liesel