Recently I have discovered how useful a hand held mixer is. These days I use mine for almost all baking and when my old one suddenly died – I bought a new one the very next day. This recipe can be done without a hand held mixer, but if you have one – use it!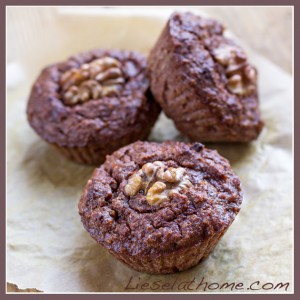 Turn the oven on to 180 C (360 F) and prepare muffin forms on a baking tray.
The base for this recipe is grated carrots. I am not good friends with our grater after it repeatedly has parted me with pieces of my fingers. However – my mixer and I are on quite good terms since it agrees to cutting almost anything into tiny pieces with those little blades so I use that one instead of grating. Here are the other ingredients – in a big bowl: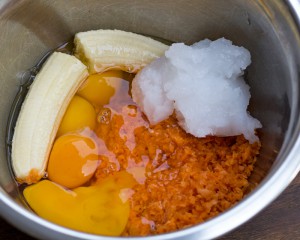 3 medium sized carrots, grated
1 banana
5 eggs
100 ml (0.4 cup) coconut oil
1 tbsp.  apple cider vinegar (or other vinegar you have)
Now use that hand held mixer and just mash everything. If you don't have one, mash the banana with a fork and then mix all together as good as you can.
In a grinder, mixer – mix
8 medjool dates with
200 ml (0.8 cup) walnuts
until they are crumbly. Then add:
200 ml (0.8 cup) almond flour
3 tbsp. coconut flour
3 tbsp. cacao powder
1 teaspoon baking powder
optionally 1 teaspoon vanilla powder
optionally 1 tbsp. cinnamon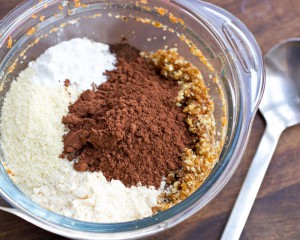 Mix the dry ingredients before adding them to the wet ingredients and stirring all together.
press the juice of one orange into the muffin mix
And then fill your forms, adding a walnut to the top of each muffin
Bake for 25 minutes
These muffins are very moist and still really fluffy. If you are not a chocolate muffin fan normally you'll be surprised as these are not as dry as chocolate muffins tend to be.
Enjoy!
Liesel
Carrot and walnut muffins