After a nice sunny week of holiday the kids were back to school today again. I thought I should make a treat for them to bring as snack to make it a little nicer for them. A quick check in the fridge – I found zucchini and lemons. OK I thought – that could work! And it did! Great combination in fact!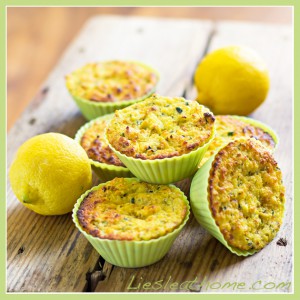 I love baking with easy and tasteful ingredients. This is one of those recipes I will be making over and over again.
Start by turning on your oven – 180 C (360 F) and place muffin forms on a baking tray.
Mix the wet ingredients in a big bowl:
1 large zucchini – grated
zest (grated peel) and juice of 2 organic lemons
1 banana – mashed
4 eggs
4 tbsp. coconut oil (OR 50 g melted butter)
2 tbsp. honey (optional, but I'd add it!)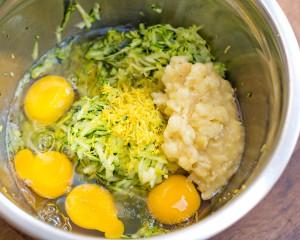 Now – does that look awesome or not! I'd say it does!! Mix with a whisk or an electrical mixer.
Then mix the dry ingredients separately. I use my new little chopper / grinder both for grinding and then for mixing. Start with grinding / chopping shredded coconut and dried apricots. If you don't have any grinder – skip the apricots and add an extra spoon or two of honey to the wet ingredients. My shredded coconut looks a bit funny because I first "milk" my coconut and let the rest dry to use for baking.
200 ml (0.8 cup) shredded coconut
4-5 dried apricots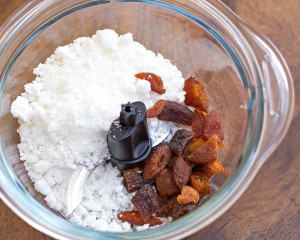 I cut the apricots into smaller pieces – otherwise my new grinder refuse to chop…
Once ground, add
4 tbsp. coconut flour (I only had 3 tbsp., but noticed later that was too little)
2 teaspoons baking powder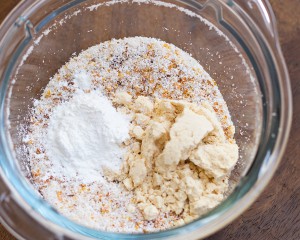 Stir with a spoon, then add the dry ingredients to the mixed wet ingredients. Fill your muffin forms about 3/4 or a little more. They will rise, but not much. A short note here – if you are sensitive to baking powder you can just leave it out! The muffins will get a bit more compact but that's OK too…
Bake for about 25-27 minutes if you have the normal (larger) size muffins like I had here, less (18-20 minutes) if you are using mini muffin forms like I often do in other recipes.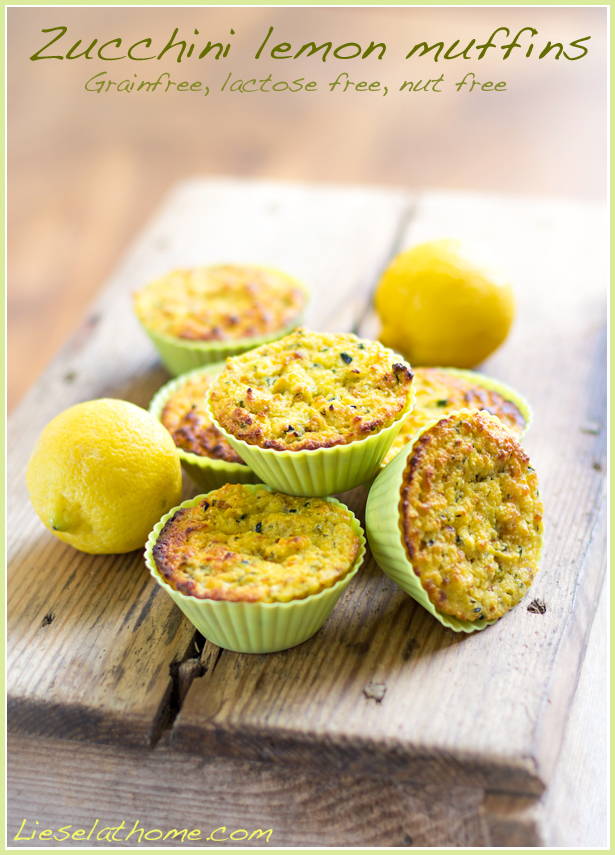 There you go! They are grain free, nut free, lactose free (unless you used butter instead of coconut oil) and has no refined sugar. And they taste fantastic! A perfect back to school treat!
Enjoy!
Liesel
Zucchini lemon muffins – a back to school treat