Since my son started packing lunch boxes again, grain free bread has been a hit in this household. I'm always using vegetables as a base – like in the root celery bread and the zucchini bread. This time it was carrots and sweet potato and I think this was the best one so far! I had to make another, bigger batch again a day later since my kids totally loved it!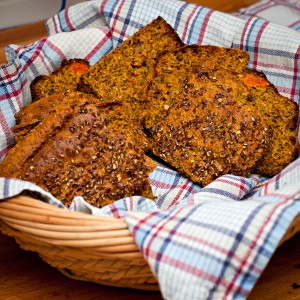 Now, sweet potatoes can vary from small to huge, as can carrots, so you might have to adjust the amount of the other ingredients… My first round was a total of about 500 g carrot and potato – the second batch was 850 g, so obviously I used more of everything else then too. You'll see as we go along!
Start by peeling and cutting into pieces:
1 sweet potato
2 small to medium sized carrots
Boil in salted water for 18-20 minutes
Turn the oven on – 180 C (350 F) and prepare a form.
I'm fascinated with the whole minimalism movement so I wanted to try something new – and used a plain gratin form, but lining it with a baking sheet that I had buttered and sprinkled ground flaxseeds on. This worked excellent so if you don't have special forms for baking, there is no need for buying any – you could try this! Or, like I did when making the Zucchini bread, just spread the dough on a baking tray lined with a baking sheet. Simple, and just as great!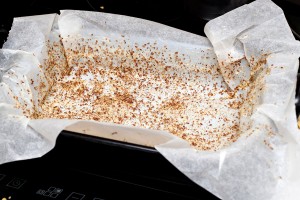 OK – back to the actual baking….
In a big bowl mix the following:
3 eggs (I used 4 eggs the second time)
1 tbsp vinegar
For dry ingredients, get out your mixer / grinder (or borrow one from a friendly neighbor!)
100 ml (0.4 cup) flaxseeds – grind to a powder (I used 150 ml second time)
100 ml (0.4 cup) sunflower seeds – also here, grind to a fine powder (and also here I used 150 ml the second time)
50 ml (0.2 cup) pumpkin seeds – also ground in the mixer (and I used 100 ml the second time)
about ½ teaspoon salt
½ tbsp curcuma (or "turmeric") this spice was great in this bread so the second batch had 1 full tbsp
2 teaspoons baking powder
Mix the dry ingredients in a small bowl or a measuring cup.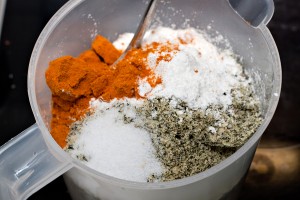 Love the colors!! The green is the ground pumpkin seeds, and the orange is curcuma.
Once the carrot and potatoes are done, drain the water, add some butter (about 50 g – 1.8 ounce) and mash. You can do this with a fork, but will get a better and smoother mash if you use a hand mixer.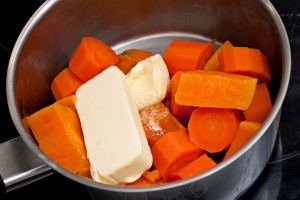 Then, add the mash to the eggs and whisk with an electrical whisk (or just stir with a spoon or regular whisk, if you don't have one). Add the dry ingredients and whisk until all is well mixed.
Fill the form and bake in the lower part of the oven for 40 minutes (45 – 50 minutes if your bread is high)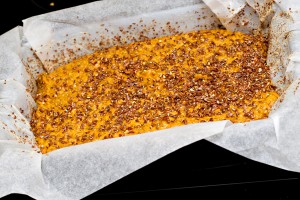 And just like with my other bread recipes – of course this is not like "real" bread, but if you cut the pieces open in halves and then roast them in the oven for 10 minutes (on high heat) they will get a texture more similar to normal bread.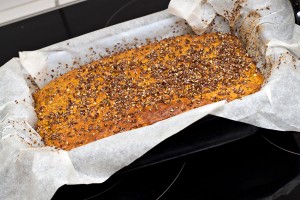 There has been a lot of positive response coming in after posting the earlier bread recipes, and I can promise – this bread is even better – so if you are on a grain free diet, and miss bread – give it a try!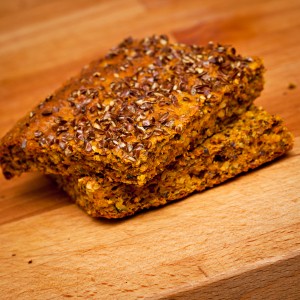 Enjoy!
Liesel
Our favorite sweet potato and carrot bread