Making muesli is a really great oportunity to be creative. It's really easy – keep a few basics in mind and then just go crazy with the rest. I'll tell you though why you should make sure the muesli turns out "just decent" and not "totally awesome"!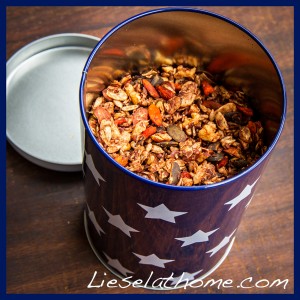 First to the basics of making muesli:
Oven to 170 C (340 F).
a total amount of 500 – 1000 ml (2-4 cups) of nuts, seeds,coconut, dried fruit and / or berries.
a pinch of salt
a drizzle of honey (or not) 
3 to 5 spoons of cold water – depending on the amount of seeds and nuts…
and maybe some spices and / or cacao powder.
That's it! Bake for 10 minutes, then turn off and leave to cool down in the oven (with the oven door slightly open.) Easy peasy!
Now – why would I make sure my mueslis are just decent (and not totally awesome)? I made the misstake once. It was a chocolate muesli with lots of hazelnuts, coconut and added banana chips. That one was really "totally awesome"! But then – it never made it to my nice muesli tin. The one above with little stars on it. The kids ate most of it, with spoons, pretty much directly from the baking tray – and I might have finished off the rest…
So these days I stay away from the banana chips, I don't add as much cacao powder and I keep everything kind of decent. We still love it, but now only eat it with a bowl of yoghurt and the tin lasts a week or so.
Here's what I used today: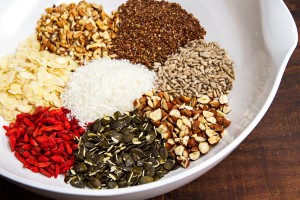 Almond slices, chopped walnuts, ground flax seeds, sunflower seeds, chopped hazelnuts, chopped pumpkin seeds, goji berries and shredded coconut.
To that I added one generous table spoon cacao powder, a pinch of salt, 1 teaspoon cinnamon, some honey and water.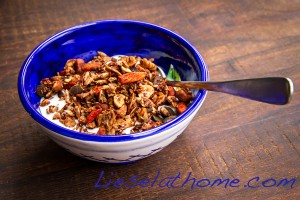 It tastes great. But not awesome. Phew!
Enjoy
Liesel
Ps, you can find more muesli inspiration here and here.
A decent, but not awesome, muesli