You have probably seen similar ideas floating over the web recently. Spread nut butter on fruit and top with nuts and or chocolate. It's nothing new. But I thought we could pimp up this idea and make it a bit more fun and colorful. Read on for some fun suggestions on how to make creative banana snack.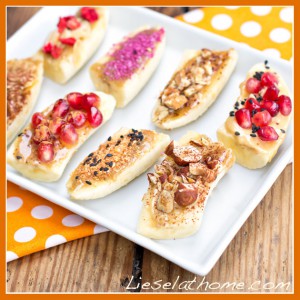 You can make this using apple slices or pear slices too, but I always find the soft sweet banana to be my favorite.
Just peel and slice one or two bananas. Cut in slices, sideways, or as in the picture, lengthways.
Spread nut butter, seed butter, Tahini or even my favorite Tahini based dressing (Tahini, olive oil, balsamic vinegar and salt) over the banana slices. We love peanut butter (the 100% peanuts kind) but the Tahini dressing is a perfect fit too!
Top with
chopped nuts, like (roasted) hazelnuts, almond slices or walnuts
Seeds, like pumpkin seeds, sesame seeds (black looks cool)
Pomegranate seeds
Freeze dried strawberries or other dried or fresh berries
And lastly, optionally, sprinkle with
cinnamon
cacao powder
grated dark chocolate
salt
Mix and match from the above options and create your own favorites!
Here is a closer look at the plate from the top picture: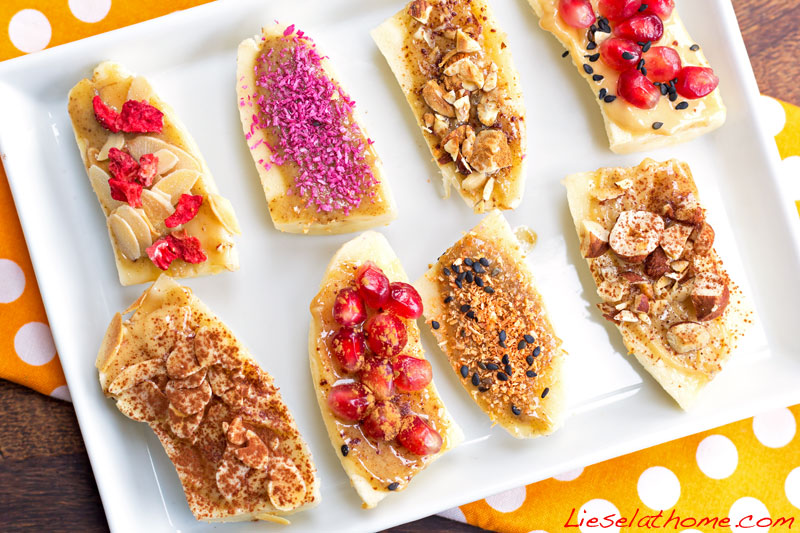 It's a nice snack for the kids after school, but I have to admit – I make this for myself just as often. It can even pass as a small dessert…
Enjoy!
Liesel