Ever since I posted the two versions I have made of wraps – THIS ONE and THIS ONE, I have been experimenting with this type of bread, using new spices and making the bread thicker and here is a new recipe that we really like. Use it for sandwiches or burgers or as I did here, fill with this lovely beetroot salad.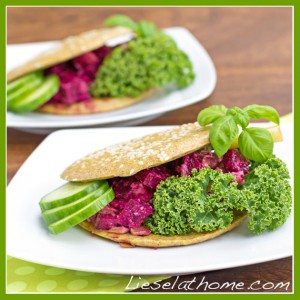 The bread itself is quick and easy to make. Turn the oven to 180 C (360F) and line a baking tray with parchment paper (I've tried to oil the baking tray, but the bread got stuck anyway so you'll need parchment paper)
In a big bowl mix:
100 ml (0.4 cup) ground flax seeds – also called linseeds. I used golden in this picture but have used brown flax seeds before.
100 ml (0.4 cup) almond flour – ground blanched almonds
1.5 tbsp. bread spice*
1/4 teaspoon salt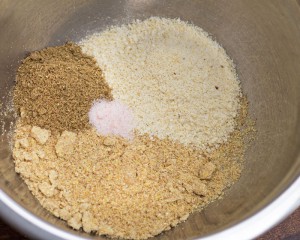 * Bread spice is a mix of caraway, fennel, anise and coriander. I mix my own – using 2 parts caraway, 2 parts fennel seeds, 2 parts anise seeds and 1 part coriander seeds. Grind to powder using a coffee grinder or a good mixer. OK – I know this sounds like too much extra work, but believe me – the spice mix is what makes this bread so bread like, so please do add it! In some countries you can buy a ready mix of bread spice.
Mix the dry ingredients and then add:
3 eggs
3 tbsp. olive oil
4 tbsp. water
Stir until all is mixed and then spoon onto the parchment paper and make 6 (or more) individual round dots. Don't spread to thin, just form the circles.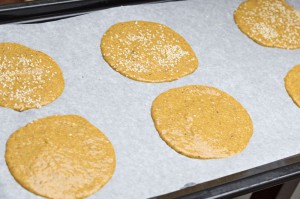 I sprinkled sesame seeds on half of them – the ones I put on top of the filling…. You can sprinkle other seeds too or just leave as is.
Bake in the lower part of the oven for 10 minutes.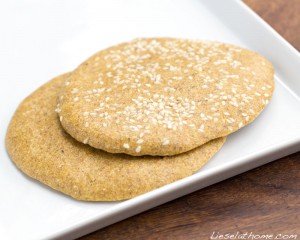 Fill the "sandwich" to your preference.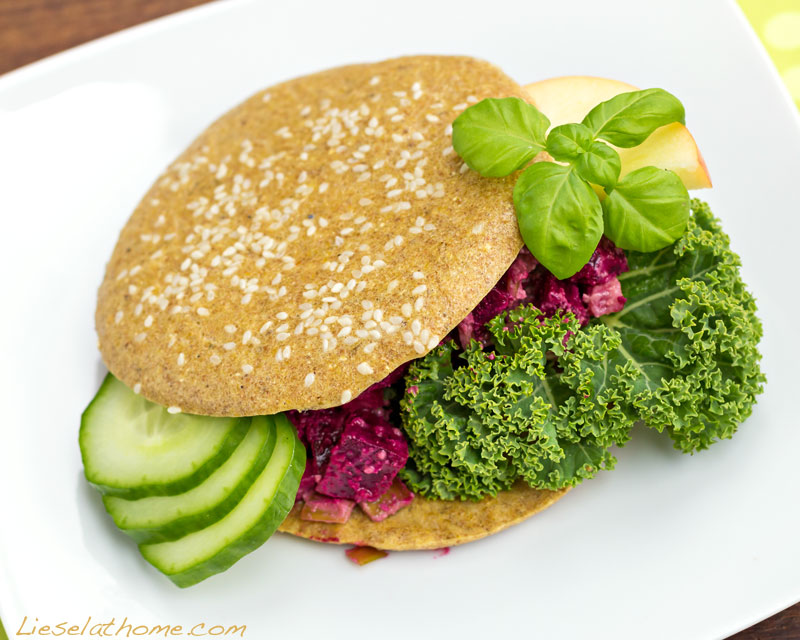 This one is filled with kale and a red beetroot salad. The beetroot salad is just a mix of:
2 medium sized beetroots – boiled (I bought ready boiled vacuum packed ones – to make it quick)
1 celery stalk
1/2 apple
1/4 cucumber
5 cm (2 inch) leek
Chop and mix, and add a dressing of
1 large spoon tahini
1 tbsp. olive oil
1 tbsp. balsamic vinegar
salt to taste
The salad tastes even better the next day (store in fridge)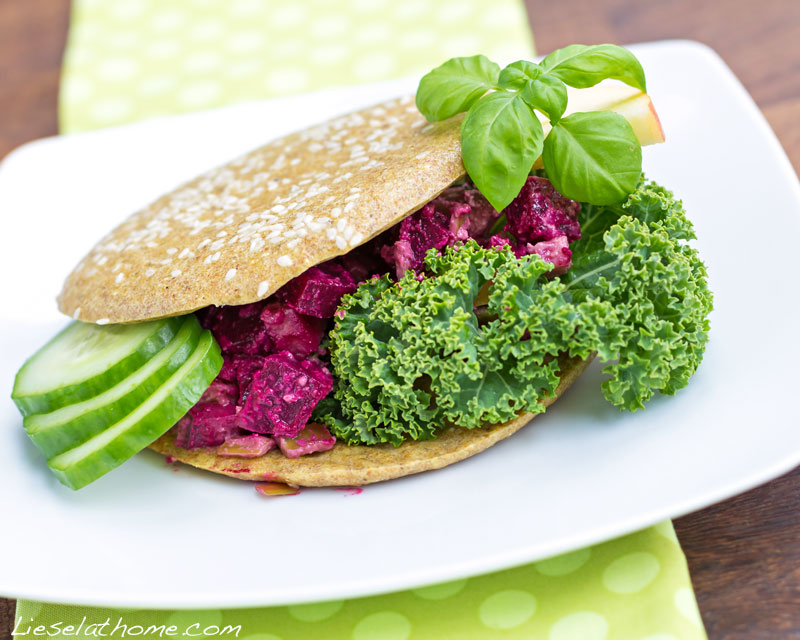 Other fillings could be a traditional burger like filling with salad, tomato and meat. Or just a slice of cheese and some tomato.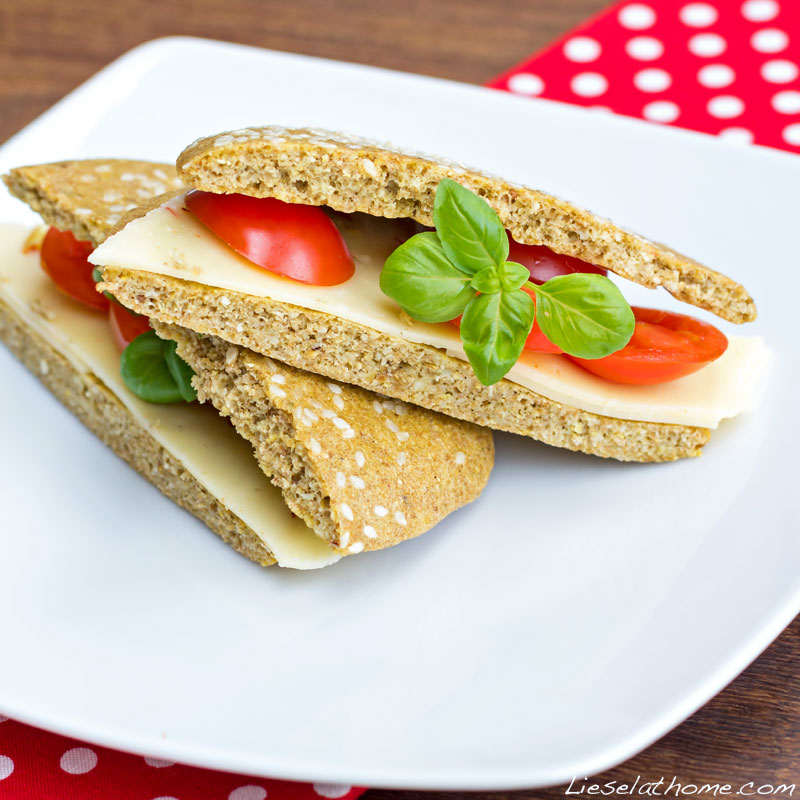 I bet you could also bake them in the oven to melt that cheese a bit… Yum!
Enjoy!
Liesel