Don't let that headline discourage you. The color of the cookies might not have been as cool and funky as I had expected, but the taste was great and I was lucky to be able to get a few pics of them before the kids came home from school… That plate was empty soon after…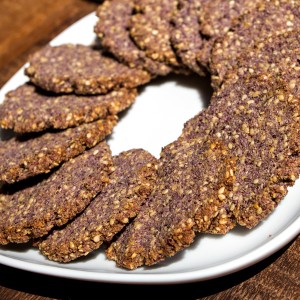 So if you read yesterdays post on how to make blueberry coconut pudding, and maybe you even tried it, you might wonder what to do with that really colorful purple shredded coconut you have left over. I sure did. Well, I suppose you could use some of it as sprinkles – just like the pink coconut sprinkle I once wrote about. Or, you could make these cookies.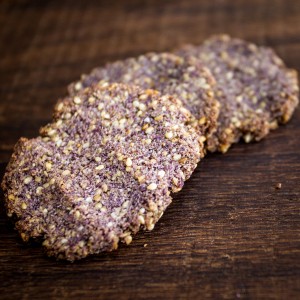 Turn the oven to 150 C (300 F)
Then in a big bowl, mix:
1 egg
about 50 g, or three tbsp's coconut oil. Look at the pic and you'll "see" the amount
½ teaspoon vanilla powder
1-2 tbsp's honey, depending on your sweet tooth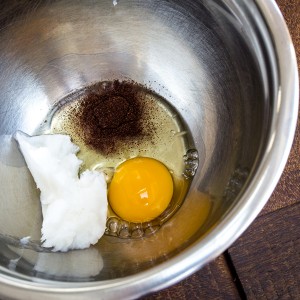 Mix with an electrical whisk and then add:
The purple shredded coconut (or just normal shredded coconut…) – the amount was just above 150 ml (0.6 cup) after I had ground it in my small mixer
Also about 75 ml (0.3 cup) ground sesame seeds. However – you could probably add almond flour instead if you rather have that. I just like the crunchiness of cookies baked with sesame seeds.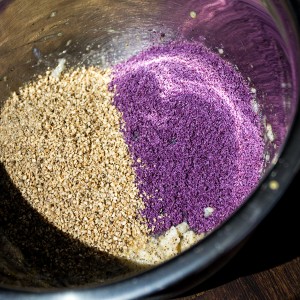 Looks like a heart…. Anyway – keep mixing with that electrical whisk until all is blended.
Then roll little balls (I got 18) and flatten them with your hand on a parchment paper.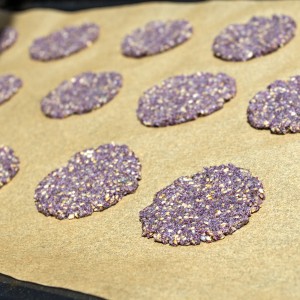 Bake in the lower part of the oven for something like 15 minutes.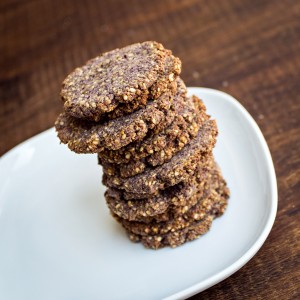 Build a little tower and take a picture. Or not. 🙂
Enjoy!
Liesel
Somewhat grey, blueberry cookies