If you still haven't tried the amazing red beetroot cake – I'll give you another reason to do so! Today we'll turn the cake into a fancy layer cake in a few easy steps. Just continue to read and get inspired by the pictures…
Of course you have to start by baking the actual cake. You'll find the recipe HERE! Once you are done – come back here. Don't worry – I'll wait… 🙂
OK – so you have the cake and it has cooled down. Do you also have bananas and cherries (or raspberries)? Dark chocolate, natural yoghurt and possibly mascarpone? Then this is what you can do with the cake!
Thaw any frozen berries, and get a banana and knife ready.
Then get 100 g (3.5 ounce) dark chocolate. The quality really makes a difference here. I favor a brand called Naturata that is sold by our local organic shop, where even the 90% dark chocolate is creamy and without a trace of bitterness.
Anyway – melt the chocolate by placing a small bowl of the chocolate (broken in pieces) in a pot with just boiled hot water (but remove from stove – it should not continue to boil). Stir until completely melted.
Add about 100 ml (0.4 cup) natural yoghurt (that's two, generous, big spoons)

And 125 ml (1/2 cup) mascarpone (and that's about two big scoops… since the mascarpone is creamier)
 And stir until smooth. Then remove the bowl from the hot water.
Cut your cake in two halves – right through the middle, vertically – and then cut each half into two layers, horizontally. You end up with 4 cake layers 20×10 cm if you use the same form as I do. But seriously – the exact size is not important…
Now, place the first one on a plate or cutting board. Spread banana slices over the cake and spread some of the creamy chocolate topping over them. Cover with layer two, spread some more creamy chocolate topping and then cover that with cherries (or raspberries). Another cake layer, more banana slices and chocolate topping and then place the top cake layer over that.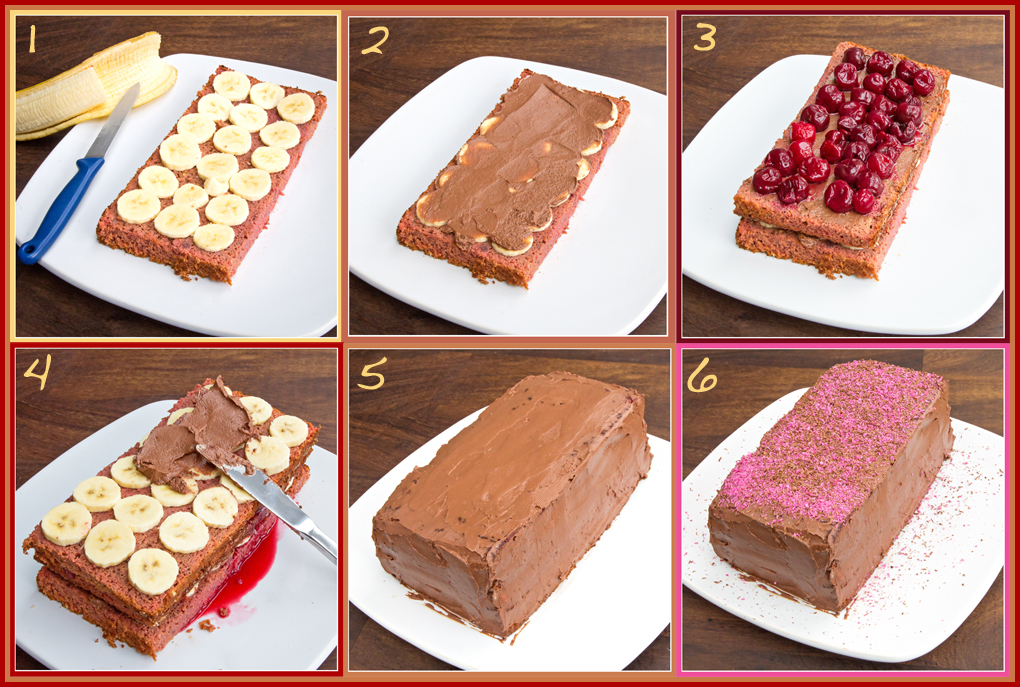 Spread remaining creamy chocolate topping over the whole cake and decorate either with a few raspberries or strawberries, or if you don't have that just grate some dark chocolate over it. I also sprinkled some pink shredded coconut over mine – for the color. Voila – you have a very fancy and absolutely amazing layer cake!
Btw, You can see on picture no 4 that my thawed cherries was "bleading" a bit when pressed down by layer 3. 🙂 If this happens to you – don't panic – just soak it up with a piece of kitchen paper.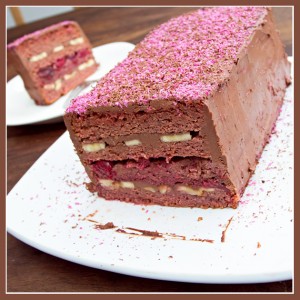 And best thing is – the cake texture is solid. No falling over or layers sliding. This is thanks to that creamy chocolate topping that we used. Easy to cut, Solid – but totally moist inside still. And absolutely delicious!
Enjoy,
Liesel
Red beetroot fancy layercake