This year I have decided to re-do some of my older recipes on the blog and try to find new ingredients and new ways of baking. One of the things I have considered a lot is the fact that not everyone has the possibilities to grind the ingredients like I do in most of my recipes. Here is a simpler recipe for grain free sweet potato scones that needs no grinder. A hand held blender is nice – but not necessary, and everything else is pretty basic. Give it a go!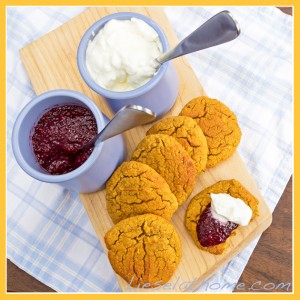 Start by boiling a sweet potato. We need about 300 g (about 10 oz.) and please peel and cut it into pieces first.
Boil the pieces in salted water until soft – about 15 minutes.
Meanwhile turn the oven on to 180 C (360 F) and prepare everything else
The dry ingredients – mix them first in a small bowl:
200 ml (0.8 cup) almond flour – which is ground blanched almonds
100 ml coconut flour (not to mix up with shredded coconut – coconut flour is a dry powder)
1 teaspoon baking powder
1 teaspoon vanilla powder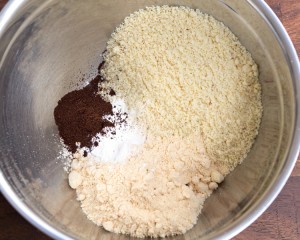 Stir with a spoon
Then in a bigger bowl we'll mix the wet ingredients:
1 banana
50 g (almost half a stick) butter
and the boiled pieces of sweet potato once they are done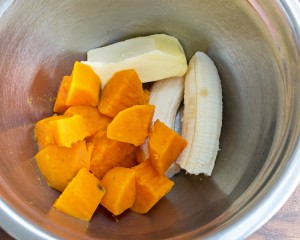 I used a hand held blender to mash and mix this – but if you don't have one you'll just have to use a fork and a bit more hand power.
Once mashed add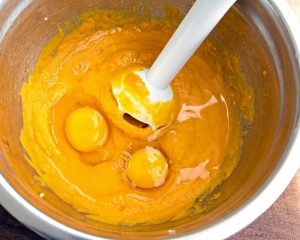 Keep mashing / stirring and then finally also add the dry ingredients.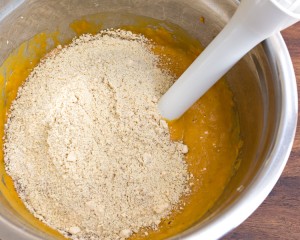 Once all is mixed you need to get a baking tray and parchment paper out.
This mash is still kind of wet, so forming little scones is not totally easy but if you wet your hands with cold water between each scone – it works just fine. I got about 20 small scones in total.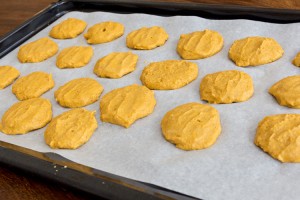 Into the oven they go and let them bake for 30 minutes. When the 30 minutes are up you have to check and see if they are done. I chose to turn mine around and put them back for another 5 minutes with the bottom side up to let them dry out a bit.
Best served still a bit warm from the oven, with chia berry jam and whipped cream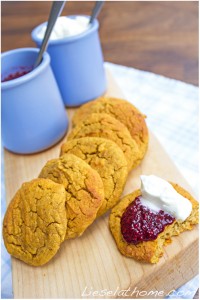 Chia berry jam is really easy to make by simply mixing (and mashing) berries with chia seeds. I used raspberries and blueberries and because I did not want to end up with raspberry seeds between my teeth I mashed the berries through a sieve first to get rid of those seeds.
I had about 1 cup (250 ml) berries.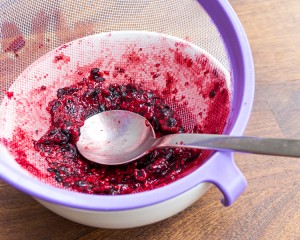 Once filtered – I added 2 tbsp. chia seeds.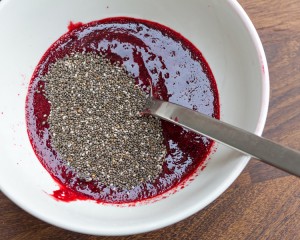 No honey, no sugar, no nothing else – just berries and chia seeds.
Leave to swell for about an hour, stirring every now and then. In other words – best to make the chia berry jam before you bake the scones…. 🙂
Enjoy
Liesel
Cute and tasty – sweet potato mini scones