When combining ingredients to new recipes, I like to think of three things: taste, color and texture. In this recipe I think all three really stands out and the result is lovely, soft sweet muffins. You can easily turn them into cupcakes as well if you have a few extra minutes.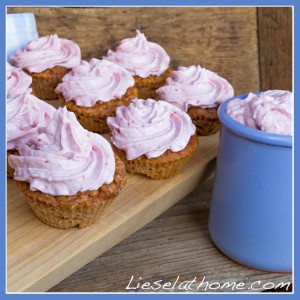 Start by boiling the sweet potatoes. Peal and cut into pieces first.
300 g (10 oz.) sweet potato – this was one rather large one.
If you cut the potato into pieces it takes only about 15 minutes to boil soft. Set a timer.
Meanwhile turn the oven on – to 180 C (360 F), and set your muffin forms on a baking tray
Then start preparing the other ingredients.
In a big bowl:
One banana
About 250 ml (1 cup) raspberries. (I use frozen ones – and took them directly from the freezer)
Just leave that for now while separately mixing the dry ingredients in a smaller bowl:
100 ml (0.4 cup) shredded coconut – mix first in a grinder/small mixer together with 3 dried apricots until crumbly
100 ml (0.4 cup) almond flour – which is ground blanched almonds
50 ml (about 3 tbsp.) coconut flour
1 teaspoon baking powder
1 teaspoon ginger – the dry, ground, powder one
And stir
Now I think those 15 minutes of boiling are done, so drain the water from the sweet potato.
Add 50 g (1.8 oz. or about 4 tbsp.'s) butter, or coconut oil
Use a hand held mixer to puree this. If you don't have a hand held mixer – just take a fork. That works as well.
Add the potato mash to the banana and raspberries.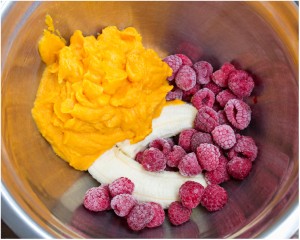 Continue to puree all three ingredients while adding in
Also add in the dry ingredients and make sure to mix all well.
Now fill your muffin forms
and bake in the lower part of the oven for 20 minutes if you have the mini-sized muffin forms like me – or 25 minutes if you have the bigger, normal sized muffins forms
You could be done now and eat the muffins just like that – or you can add a creamy raspberry topping. We were expecting guests so I added the topping to make them just that little extra bit fancy. This is how that goes:
Take 125 ml (half a cup / 50 g / 1.8 oz.) fresh or thawed frozen raspberries and mash them in a bowl
add 250 g (8.8 oz.) mascarpone
and 1 tbsp. honey
I mixed this using the hand held mixer and got a very even, creamy, result
Fill an icing bag – or just use a knife to spread the topping on the muffins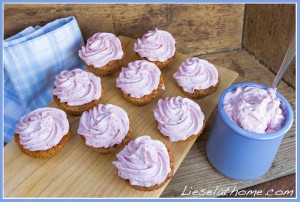 Enjoy!
Liesel
Sweet potato and raspberry muffins